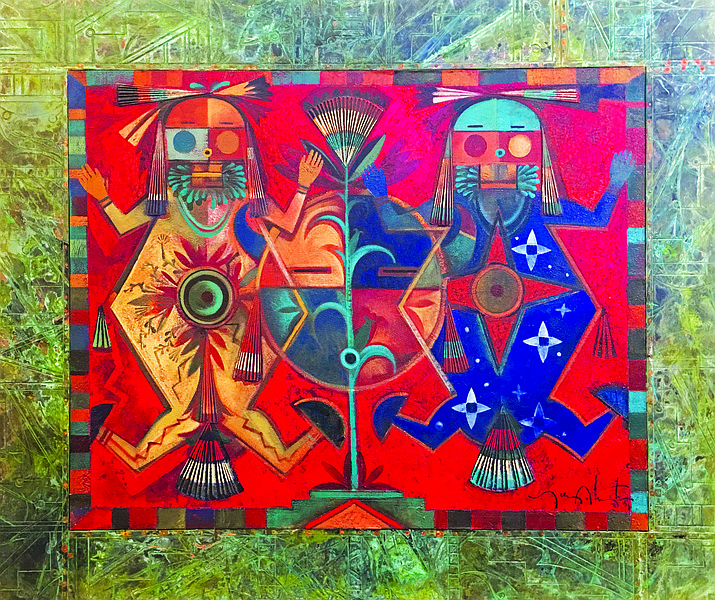 ---
---
Turquoise Tortoise, a Bryant Nagel Gallery, is incredibly pleased to announce the return of celebrated artist Tony Abeyta. "Tony Abeyta: Neo-Expressionist" opens with an Artist Reception May 4th from 5:00 to 8:00 pm; the gallery also offers another unique experience: at 6:00 pm during the opening, attendees will be treated to an artist interview with Tony Abeyta and Dr. Jennifer Bryant Nagel, gallery co-owner. The interview will explore Abeyta's artistic evolution and his current focus for the dynamic artworks being unveiled.
"What happens in the studio I don't always get to dictate," Abeyta said "It's what I'm inspired to do, what I find inspirational and stimulating."
Tony Abeyta is the recipient of the 2012 New Mexico Governor's Excellence in the Arts award; he is recognized as a Native Treasure by the Museum of Indian Arts & Culture in Santa Fe, NM. Throughout the summer of 2017, his exhibition "Tony Abeyta: Convergence" ran at the Museum of Northern Arizona in Flagstaff. His work is included in the Smithsonian's National Museum of the American Indian, Boston Fine Arts Museum, the Heard Museum in Phoenix, AZ, New Mexico Fine Arts Museum, the Autry Museum in Los Angeles, CA, and the Eiteljorg Museum in Indianapolis, as well as many other public & private collections throughout North America, Europe and Japan.

Stop by Turquoise Tortoise on 1st Friday evening, May 4th, to meet Tony Abeyta and enjoy the opportunity to see an interview with this acclaimed artist.
In Sedona, "Tony Abeyta: Neo-Expressionist" runs throughout May 2018.
Visit www.Facebook.com/TurquoiseTortoiseGallerySedona; or follow Instagram.com/TurquoiseTortoiseGallery. Turquoise Tortoise Gallery, 928-282-2262, www.TurquoiseTortoiseGallery.com, located at Hozho, 431 S.R. 179, Sedona, AZ. Open daily: 10:00 a.m. – 6:00 p.m.