Former Marauder Waynick signs with Northwestern Ohio baseball
Originally Published: August 4, 2018 2:52 p.m.
Mingus Union alum Skylar Waynick is taking his talents to Ohio.
On Friday the 2018 Mingus Union gradate signed with Northwestern Ohio baseball.
"It's amazing," Waynick said. "It's been a long time coming. I put a lot of work and heart into this, I've been playing the game since I was two years old, I love the game and can't wait to pursue my dream and continue my education. It's a great school and great fit and I'm really excited."
Waynick will major in diesel technology and high performance automotive technology. UNOH's mascot is the Racers.
"The major fit me really well, I thought that the school really fit well, the program, the coaching, everything was just through the roof and it was just really good I connected really well with the coach right away, so that was a big factor and I'm really just glad and grateful," Waynick said.
Northwestern Ohio head coach Kory Hartman, the 2015 and 2017 conference coach of the year, has seen 12 of his players sign professional contracts since 2010.
"Oh it's amazing, it's great to see a kid live out his dreams," Mingus head baseball coach Erick Quesada said. "I know that he worked hard, busted his butt in classroom, especially on the field and he's getting all the benefits that he deserves."
Matt Wright, who coached Waynick in Little League when he was 11 and 12 said it's very cool to see him moving onto to college baseball.
"I got a chance to know him as a young man and even then he had a love for the game and I just had the chance to instill hard work and love for the game in and the rest is on him and look what he's done," Wright said.
Northwestern Ohio finished the season ranked No. 9 in the NAIA.
Waynick will be a pitcher and shortstop there.
"It's really cool, really exciting, I'm going to be the only player from Arizona and it's going to be really special," Waynick said. "I'm glad I'm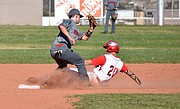 representing this school and this town and I'm proud to be there."
UNOH has about 4,500 students, who are from 40 states and 36 different countries.
"They're getting an amazing kid," Quesada said. "When the coaches would call me they asked how was he as a person and everything I said about him was spot on about he's a great leader, he's a great person and he has great character. He's going to represent Mingus in the right way, pursing victory with honor and I know for a fact that he's gonna make a major difference in that program and for this community as well."
Former Mingus head coach Bob Young said UNOH is getting a kid that's dedicated to baseball.
"He's put everything he could into it the last four years," Young said. "He's one of those old school grinders that I love. He worked his tail off in the weight room. He was a little skinny kid as a freshman and he knew that in order to play college baseball, he had some good skills, but he had to become a better athlete, so he's a lot stronger."
Waynick was first team all-region this past season and a three-year starter at shortstop.
"Mingus is a top notch program and it's hard to crack the line up," Young said.
Waynick will head out there in a couple weeks. He is going to live in a dorm with other baseball players, also freshmen.
"The campus is actually really quite big," Waynick said. "It's really cool. The baseball field is probably one the prettiest baseball fields I've ever seen. The dorms that we will be staying in are right behind the baseball fields, so it'll be about a not even two minute walk to the baseball field. All my classes are not even five minutes away, so it's really nice."
When Quesada was hired in the spring, he said he wanted to help as many players as possible move on to the college level.
"That was my biggest thing: I want kids to get to the next level," Quesada said. "I'm thankful that he entrusted me to help him with this Northwestern Ohio is a great college, a great university and he's going to a great place."
More like this story
SUBMIT FEEDBACK
Click Below to: