New look Mingus football debuts at Red and Gray Scrimmage
Originally Published: August 4, 2018 3:16 p.m.
Mingus Union football debuted its new offense and defense on Friday night in its annual Red and Gray Scrimmage.
First year head coach Robert Ortiz thought the results were promising.
"I think it went pretty good, we're still in that learning phase," Ortiz said. "Other than practicing and kind of playing against each other, getting that game like setting, it really helps to play at full speed. So there's a lot of mistakes but they're learning mistakes and as the next couple weeks come by, they should be pretty set. I thought we executed but I thought we made some simple mistakes well."
The Marauders were divided up into teams with red or white jerseys. Varsity players played against each other, as well as the JV Marauders scrimmaging themselves.

"It went well," senior quarterback Antoine Zabala said. "There's some miscues, we just need to click more. We're just missing a little bit on offense, defense is good. We'll get it down for sure though, it's just a little rocky and that's all it is. It's just something new to get used to still."
The Marauders return to action on Wednesday when they host 4-way scrimmage. It includes 3A Payson and 5A Phoenix Central.
Ortiz said he thinks the Marauders have adapted well to the new offense and defense.
"Any time you bring anything new like right now I'm in a new district, a new school, so I'm learning new things, making mistakes just like they are with the new offense, new defense. But like I said, I don't think it's anything that we can't change or can't fix I think once we see it
Photo Gallery
Mingus Red Gray Scrimmage 080418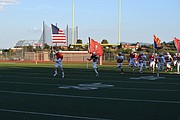 On Aug. 3 Mingus Union football hosted its annual Red and Gray Scrimmage. VVN/James Kelley
on film for the first time it will really, really help them to open up and see the simplicity of it, too," Ortiz said.
The Marauders open the season on Aug. 17 when they host Combs.
Zabala said he likes the new pass happy and fast paced offense.
"It's definitely just a blur, it's go, go, go all the time," Zabala said. "Nobody waits for nobody, that's for sure. It's definitely what we needed though, it's definitely a good change for us, it's something we're going to roll with and take it as far as we can with it."
The scrimmage capped the Marauders' second week of practices. They started on July 23 and after three helmet practices and three in shells, donned full pads.
"They've gone alright," Ortiz said about the full pads practices. "We're low on numbers so we want to make sure that we're practicing the right way and we're teaching the kids how to fly around, pursuit of the ball, be in position to make tackles. So overall the first few days in pads they've gone well. We're just trying to keep guys healthy at the same time, so it's gotta be tit for tat on that one."
The defending 4A Grand Canyon champions were excited to get to full pads after spring football and 7-on-7s.
"Everybody's really amped for the season, everybody, the whole town's wondering what we're gonna do this season and everybody was really looking forward to those first few practices," Zabala said. "I think it really went well for us."
In addition to being under the Friday night lights, the scrimmage included the inflatable helmet tunnel, the cannon and cheerleaders.
"It's really good, it's really good for young players that aren't experienced, they get out in front of their home crowd, how it's going to be, how loud, the lights, everything," Zabala said. "They really get a good taste of how it's going to be like."
While last year's Red and Gray Scrimmage featured a stadium that was about a quarter full, this year the stadium seats were almost full.
"There was a lot more people than I expected," Ortiz said. "It seemed like there was a lot of people, probably some curiosities to see what we're doing and the things that we're trying to implement here. So I appreciate the town, the community and the students for coming out and supporting us but overall I was a little excited to see that many people sitting in the stands again."
More like this story
SUBMIT FEEDBACK
Click Below to: