The Sweet Spot: Sustainable tourism seeks to strike balance between quality of life and robust economy in Sedona

Originally Published: August 4, 2018 3 p.m.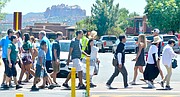 Jennifer Wesselhoff says people approach her all time when she is out in Sedona.
After all, she lives in Sedona and is the president/CEO of the Sedona Chamber of Commerce & Tourism Bureau, which has served the community for 65 years.
"Some are real happy. Some say keep up the great work. My livelihood depends on it," Wesselhoff explained. "I have 20 employees that rely on what you're doing."
"And then there are others," she continued, "that say, wait, hey, how much is too much?
"It depends what kind of a camp you are in," Wesselhoff summed up.
Sedona is heating up
What Wesselhoff is talking about is the bitter discussion Sedona residents are currently having about tourism and its effects on quality of life in the community.
Stress on traffic, housing and the "Sedona" lifestyle have led many residents to openly question the need of bringing more tourists to Sedona.
Wesselhoff said the chamber has always been working on quality-of-life issues in Sedona such at traffic and other stresses of tourism.
"Every year, we have been developing more and more sustainable tourism approaches," Wesselhoff explained. "Our marketing budget to bring visitors here has actually remained relatively flat in terms of consumer advertising."
Wesselhoff's directive from the Chamber's members and the Sedona City Council has always been to bring tourism to Sedona for the 18 years she has worked for the Chamber, 11 years at CEO.
That's 3.1 million visitors who come to Sedona each year who provide jobs to 10,000 tourism employees, according to the Chamber.
New mission for Chamber
But now, Wesselhoff says her directive has changed and the Chamber's new sustainable tourism plan focuses on quality of life, sustainable tourism and visitor management and not so much attracting more tourists to Sedona.
She said the Chamber is responding to surveys and feedback from the community to determine what is "enough."
The Chamber's new approach will focus on quality of life, quality of the environment and quality of the economy, the CEO said. To find a "sweet spot," she added, a balance.
So the Chamber has reduced the amount of money it receives from the City of Sedona for its Tourism Bureau, which is a partnership between the Chamber and the City of Sedona.
The City of Sedona, the Chamber and its Tourism Bureau have had a long-time partnership. The city council voted again to continue using the Sedona Chamber as its Destination Marketing Organization in June.
The Chamber directs 55 percent of the city bed tax, which is collected from tourists staying in Sedona lodging, she said. For Fiscal Year 2019, that is projected to be $2.44 million.
But the Chamber will give back $268,900 to the City of Sedona and the Chamber will get $2.17 million to stay flat with last year. 
Wesselhoff said she's asked the city council to spend the $268,900 on city transportation priorities, including expanding the schedule of the Verde Lynx bus system and also a public transit implementation plan.
"The Chamber of Commerce function is 100-percent funded by our 858 partner members and does not receive any public funding from the bed tax or from the City of Sedona," Wesselhoff explained.
"We're all hearing the discussion. We're listening. The Chamber and the City Council are addressing the challenges, the new challenges of tourism."
Wesselhoff said in an interview that the Chamber has been talking about how Sedona can become a better managed and sustainable community for years.
"They (some residents) think traffic is the problem. And they relate traffic to tourism. And the Chamber to tourism. And they are linking it all together into one issue," Wesselhoff said.
"Our issues in Sedona are issues of abundance and issues of success, and they are great problems to have," she said, pointing out that they are still problems
But the good news is Sedona has resources to "mitigate" some of these problems, Wesselhoff added.
Striking a balance
The Sedona Chamber's new and active management approach to tourism will help strike a "balance" between quality of life and a healthy economy, Wesselhoff said.
For this year, these include:
• No increase in the marketing budgets scheduled for the upcoming year and that the money be used for traffic management, she said.
• No advertising inside Arizona this summer. Wesselhoff said this would discourage day-visitors as the Chamber would prefer tourists stay multiple days.
• Less than $500,000 will be spent outside Arizona for advertising this year. "We will market during need seasons of summer and winter only."
• Advertising and focus on bringing tourists to Sedona during off-peak days and times of year.
Including in the Chamber's new tourism mission is the Sedona Chamber's Product Development Fund, which invests 23 percent (of the $2.17 million) of the tourism budget into issues dealing with the quality of life in Sedona, Wesselhoff explained.
This includes the Trails Program, that gets matching grants from businesses to preserve the Sedona Trails System, she said.
Also, Sedona's Secret Seven Campaign to disperse hikers to alternative and less-crowded trails.
The WalkSedona.com campaign, a GPS enabled-phone service to allow people to find free parking and walk to galleries or hiking "in an effort to get people out of their cars," Wesselhoff told the city council in June. The Walk Sedona program's "goal in the next five years is to have any visitor that comes to Sedona to park their car and not have to get back in their car until they go home."
Wesselhoff told the council that the Jordan Road property they purchased added 44 free parking spaces and is getting a lot of use. Now the city has to decide what to do with the existing building, which could be torn down to add more parking.
The Chamber has allocated funding for the Western Gateway, which is for 28 miles of trails near a trail head near the Cultural Park, which is a three-year project for the Forest Service. This will manage the capacity problems causing parking issues on Dry Creek Road by hikers going to the Devils Bridge area.
The city is also adding gateway signs for parking lots, galleries and city facilities with a consistent look so visitors can find where they are going and they are working with ADOT.
ASU researchers to help
Wesselhoff told the council that the sustainable tourism plan is a way to focus this "balance of small-town character, quality of life, with a viable natural environment with a healthy strong economy."
To get a better focus on the plan, the chamber has announced an upcoming survey of residents, tourists and chamber members by Arizona State University researchers for its Sustainable Tourism Plan.
The chamber said the researchers are now at the community input phase that will last until mid-August. ASU's Center for Sustainable Tourism in the School of Community Resources and Development has been working under an agreement with the City of Sedona and the Chamber, according to the Chamber's website.
"Mailed surveys, focus groups, business surveys, a community-wide public meeting and emailed comments – will be reflected in the plan's recommended strategies for Sedona's sustainable tourism future," states the Chamber web site.
Wesselhoff pointed to another study by the National Citizen Survey done last year that found that 99 percent of the residents of Sedona said that Sedona was either a "fair, good or excellent place to live."
"And frankly we want to keep it that way," she told the council in June.
Referring to Sedona business people or people who are working in the tourist industry who are stuck in traffic, Wesselhoff said their threshold for patience may be much higher because they are directly benefiting from tourism. Whereas, some residents don't see the benefits of tourism as directly. However, the city doesn't have a city property tax because our revenues from tourism are so high, she said.
Nowhere has the divide been more apparent among Sedona residents, and non-residents, than on social media where arguments have ranged from civil discussions to angry personal accusations.
A complaint was even filed to the Arizona Attorney General's Office in July challenging the City of Sedona's contract with the Chamber of Commerce. The complaint alleges that the city's bed tax violates the Arizona Constitution's gift clause.
It was filed by Sen. Judy Burges (R-District 22) whose legislative district includes the cities of Glendale, Peoria and Surprise.
"The city has had a contract with the Sedona Chamber of Commerce for visitor management since the early 1990s and entered into this contract – in a public and fully transparent manner – in 2014 and there has been not a peep since then," Sedona Mayor Sandy Moriarty said in the press release from the city.
Finding the sweet spot
Wesselhoff insists that the bed tax that goes to the Chamber's Tourism Bureau is raised by the visitors who are spending the money when they stay at local lodging, and not local residents.
"There's a group out there who are confusing the issue," Wesselhoff said.
"They think we are spending $2 million on billboards in Phoenix and it's just not true," she said. "In this upcoming budget, we're going to be spending over a million dollars on visitor management and sustainability programs." This includes operating one of the busiest visitor centers in the state that can disperse tourists and adding new parking uptown.
"Our new mission is a way of being effective for all of Sedona," she said. "Our new mission is to serve Sedona by making it the best place to: number one, to live; to work; to play; and to visit," Wesselhoff said.
The Chamber CEO has even taken that message to the community in social media, to the newspaper and radio airwaves.
Wesselhoff said that change is natural as communities adapt to the changes like vacation-home rentals, a booming economy, consumer confidence, gas prices and international growth in tourism.
"We're working to change in a sustainable way and actively manage our strategy to preserve our quality of life while sustaining our local economy," she said
Wesselhoff said she had a Sedona lodging partner who is upset that they are pulling advertising from Arizona this summer with claims that it has killed their business.
"For her, we are far from the sweet spot," Wesselhoff said.
"We're residents too. And that's where I don't understand where people say we don't care," she continued. "We've never been about more, more, more, more. We've been about the right visitor" at the right time of year, she explained.
"This is definitely the hardest it's ever been," Wesselhoff said of her 18 years at the Chamber. "It surprised me a little bit because normally people are upset when you are not successful."
More like this story
SUBMIT FEEDBACK
Click Below to: