Mingus Union football rolls in 4-way scrimmage at home
Originally Published: August 9, 2018 5:07 p.m.
Mingus Union finished up their preseason scrimmages confident.
On Wednesday the Marauders hosted Phoenix Central, Phoenix Trevor G. Browne and Payson for a 4-way scrimmage.
"I think we did pretty well," Mingus head coach Robert Ortiz said. "I think we ran the ball well and we executed, still working on putting it all together and the decision making processes behind it but I think overall we stood out and we did pretty good."
The Marauders didn't get to play Payson but edged Central and Browne.
"We did very well, we all came together, we did our jobs, we executed what coach told us to do and we came out on top," senior Alex Nelson said.
Mingus Union opens the season Aug. 17 when they host San Tan Valley Combs.
The four-way scrimmage capped their preseason preparations after spring football, 7-on-7s and big man challenges in June and helmet and shell practices.
"Playing someone else this close to the season is always good because your kids get tired of hitting on each other through out practice," Ortiz said. "It's been a long summer and then get into pads, they get excited for about a week and then lose interest, so putting a different jersey in front of them's never a bad thing."
Trevor G. Browne and Central are schools in the Phoenix Union High School District. Browne is 6A and Central is 5A.
Central went 6-4 in the 6A last year and Browne went 3-7 in the 6A last year as well.
Photo Gallery
Mingus Football 4 Way Scrimmage 080818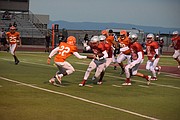 On Aug. 8, Mingus Union football hosted a 4-way scrimmage, playing against Phoenix Central and Phoenix Trevor G. Browne. VVN/James Kelley
"You got a couple bigger schools down in the valley that are coming up," Ortiz said. "It's nice to play against schools of all ranges and see differences in offenses and defenses but talent wise I was very impressed with Central, Trevor Browne's got some athletes and Payson, Payson's always tough, coming down and they play the Cottonwood kids in youth ball so a little familiarity with the kids and our players."
Nelson opened the scrimmage against Browne with a 50-yard touchdown run. Then a few plays later (the offenses kept going until their play count was up) he scored another touchdown. He also ran for a long score against Central.
"I think I did good, I'm following my blocks more," Nelson said. "My blockers are just doing it all for me and I'm just reading what they do, so it's kinda all on them."
Ortiz said the Marauders have grown a lot and as of Wednesday night have only watched film a couple times so they have plenty more room to improve.
"I love it, it wasn't that hard to learn, it's really basic, it's really easy to execute our drives," Nelso said about the new offense.
JV returns
The varsity squad isn't the only Mingus Union team that's seeing changes this year.
This season the Marauders' second team will be in the JV ranks. Last year Mingus Union fielded a freshman team and varsity team, this year they will have a JV to go along with the varsity.
Ortiz said that's because of the numbers they have and where the program is.
"I think at the end of the day, I think the sophomores who would be on varsity as seniors, they're gonna play with those juniors, so right now the sophomores will play varsity with the freshmen in a couple years, so the sooner that they can get on the field together and get familiar with each other and play and gel and mesh together, the better our program will be in the long run," Ortiz said.
Brandon Figy is the JV head coach. The younger Marauders play eight games starting with Gilbert Mesquite on the road on Aug. 30.
"All of our kids are getting developed by all coaches and not set aside," Ortiz said. "We are all practicing together, so the young kids are learning the expectations at an earlier age, which will be nice for them in the future."
Breathing space
According to the preseason rankings, Mingus Union's schedule this year is not as brutal as it was in 2017.
None of Mingus Union's opponents are ranked in the Arizona Republic's 4A preseason top 10. Show Low is No. 5 in the 3A rankings.
Only Chandler Seton Catholic, at No. 3, is ranked in Sollenberger's AZ Football Prep Magazine's 4A top 10. Show Low is No. 9 in the 3A according to online magazine, which is available for free on azpreps365.com.
Last season Mingus Union played the No. 1, 3, 5 and 8 seeds in the state tournament in their four non-region games.
More like this story
SUBMIT FEEDBACK
Click Below to: