"I'm pleading guilty" -- Seth Collins enters plea, accepts guilt on all charges
By
Bill Helm
|
BillHelm42
Originally Published: August 14, 2018 1:44 p.m.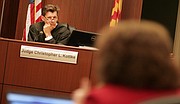 After two hours in court Monday, Seth Collins would not accept a plea agreement.
But he did accept responsibility for the Nov. 21, 2014, collision of his GMC pickup into a 2007 Chevrolet mini-van driven by Jeremy Hutchinson on SR 260.
Collins changed his plea for each of 23 counts, as well as two additional cases charging drug paraphernalia.
"I'm pleading guilty," the 47-year-old told Judge Christopher L. Kottke.
That Collins admitted his guilt "serves justice," said Patti Wortman, deputy county attorney for Yavapai County. "A victim was able to hear the defendant plead guilty and take responsibility."
A "giant mistake that greatly affected a lot of people" is how Collins' attorney spoke of the accident that seriously injured Hutchinson and his passengers.
Before Collins changed his plea, his attorney and Yavapai County's attorneys met in private for close to 45 minutes.
"I don't think at this point it's something we can negotiate with the state," Collins' attorney, Stephanie Willison told Judge Kottke. "We can throw it on you, throw ourselves on the mercy of the court."
Once Collins changed his plea, Judge Kottke asked Collins if he had any questions.
"No, your honor," Collins said.
"Do you understand that once I accept your plea, that you cannot change your mind?" Kottke asked Collins.
"Yes, your honor," Collins said.
Though the charges in the SR 260 accident were many, Willison said that Collins "didn't make eight decisions to hurt eight people."
"It's one mistake and he knows he's going to have to pay for it," Willison said.
Though nobody died at the scene of the accident, the unborn son of Hutchinson/Sabrina Champ died on Jan. 17, 2015.
The 23 charges stemming from the SR 260 accident include 12 counts of aggravated assault, two counts of endangerment, four counts of aggravated DUI, criminal damage, possession of methamphetamine, possession of diazepam, and two counts of paraphernalia.
Collins will be sentenced by Judge Jeffrey Paupore at 9 a.m. Wednesday, Sept. 12 at the Yavapai County Superior Court in Camp Verde.
-- Follow Bill Helm on Twitter @BillHelm42
SUBMIT FEEDBACK
Click Below to:
More like this story