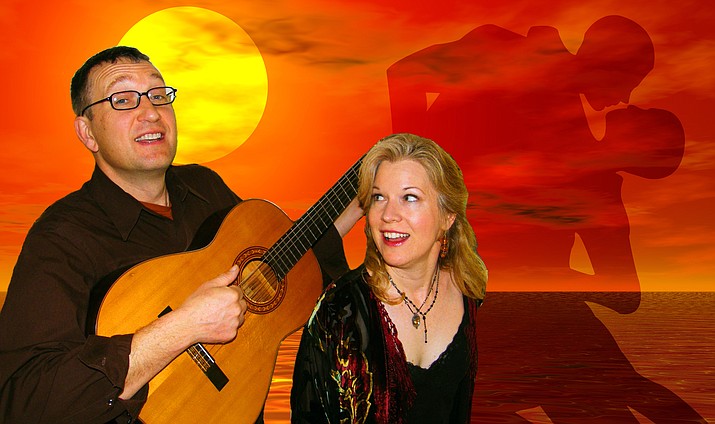 ---
---
Sedona's Susannah Martin will perform for the unveiling" of Steakhouse89's remodeling and for its community fundraiser Thursday, Aug. 16, from 7-9 p.m.
Susannah will perform with her long-time band partner "Vincent," the other half of her popular duo called Flor de Bee.
Susannah Martin is acclaimed for her enticing vocals and mastery of numerous musical styles, including jazz, pop, classic rock, Brazilian and Latin jazz.
Her fluid, sultry voice encapsulates her rhythm & blues influences, along with the spicy international flair ignited by her multi-lingual singing.
Susannah has sung with Motown, classic tock, top 40 and R&B/funk bands, as well as chamber and avant-garde ensembles, Gospel choruses, big bands, jazz combos, Latin Jazz ensembles and A cappella vocal groups throughout her career.
She has thrilled audiences across the United States with her performances at concerts, festivals, nightclubs and cruise ships.
Flor de Bee is a spicy, whimsical duo of international acclaim. Acoustic guitar, sassy vocals, gliding harmonies and percussion deliver jazz, Latin and French classics with a tantalizing twist.
This dynamic duo delights audiences with the fiery and whimsical blend of its two strong lead players on vocals, guitar/banjo and cajon. From "La Vie en Rose' and "Volare" to "Stray Cat Strut" Susannah and Vincent top their performance off with smooth and surprising harmonies, including dual vocal improvisations of multi-dimensions.
The band swings with jazz and blues while spicing it up -- sometimes hot, sometimes breezy -- with rhythmic Latin and world music in up to six different languages.
She has also recorded two albums: "Tropico Sur" (released in 2002 and recorded with Argentinian guitarist, Pablo De Luca) and "Baby Boomer Blast" a rollicking tribute to great classic rock hits of the 50s, 60s & 70s featuring local favorites Robin Miller and Patrick Ki.
Steakhouse 89A owners Dieter Lehmann and Cyril Chiosa have remodeled the building once known as "The Barking Frog" into a new venue for the music-loving community of Sedona.
They believe the new oval bar and improvements to the restaurant that include plans for a large stage and the creation of a nightclub atmosphere in the restaurant, will fulfill the need for additional venues for the plethora of great musicians that live and perform in Sedona.
They are especially proud and excited to have Susannah Martin kick off the unveiling celebration of their venue.
"We believe that Susannah Martin represents the kind of music that best fits our style and standards," Lehmann said. "We are designing our restaurant to create a great musical venue for our local musicians and our guests."
"Steakhouse89 has created a friendly community vibe for music artists and their fans by featuring talented Sedona musicians since their first opening in February." Martin said.
Steakhouse89 is presently featuring live music every night of the week that it is open.
The August 16 performance by Flor de Bee will serve as a fundraising event for two of the community's iconic entities.
Proceeds will be going to the promotion of the Sedona International Film Festival and the "89 Flags on 89A" patriotic project.
The party will be hosted by Sedona luminary and actress of Doublemint Twins fame, Terrie Frankel.
To buy tickets visit steakhouse89@.com or call 928-204-2000
Steakhouse89 is located 2620 W. S.R. 89A, Sedona; 928-204-2000; steakhouse89.com
Full menu of music this week at Sedona's Steakhouse89
The renovations are complete and the music is back on schedule at Steakhouse89, Sedona's newest musical venue and restaurant.
The following is the live-music schedule from Thursday, August 16, to Tuesday, August 19:
Thursday, August 16, 7-9 p.m. "Susannah Martin"
Friday, August 17, 5-8 p.m. "Paulo"
Paolo is an accomplished vocalist/pianist known for putting a delicious twist of romance back into jazz. His audience loves to hear his new arrangements of the great romantic songs of the past. His musical style is a modern blend of breathy vocals, rich harmonies and soulful rhythms. His "best musical friend" is his keyboard, and his "favorite song" is the one he is singing each moment.
Saturday, August 18, 5-8 p.m. "Phil Rossi"
Phil Rossi is a versatile piano player who's  mother Lillian was a musician and taught Phil the basics of the piano when he was eight years old. From that point he progressed by practicing until he was 16 years old at which point he formed a trio with two neighborhood friends a drummer and bass player and began his career by playing church socials, school sock hops etc. In the 60's Phil put together a rock group and performed all over the U.S. well into the late 70's at which point he returned to doing a single and playing songs from the 40's 50's 60's and up to the present. He has lived in Chicago most of his life, Florida and now resides in beautiful Sedona, AZ. He had been fortunate during his musical career to have worked with "The Chairman of the Board" Frank Sinatra Sr. and also with his son Frank Jr. and drummer Buddy Rich to name a few. His music will take you back in time (from Cole Porter, the Gershwin's, up to Billy Joel ) creating memories of long ago.
Sunday, August 19, 10:30 a.m. to 2 p.m. "Susannah Martin"
For 20-plus years Susannah Martin has delighted audiences across the U.S. with her performances at concerts, festivals, clubs and on cruise ships and at private events. Susannah's fluid, sultry voice is colored with jazz and Rhythm & Blues, along with a spicy international flair ignited by her multi-lingual singing in Latin styles. Her ability to improvise lifts her performance to further enticing heights. Enjoying brunch at Steakhouse89 while warching Susannah perform is a special treat indeed.
Tuesday, August 21, 5-8 p.m. "David Vincent Mills"
David Vincent Mills is a funky jazz pianist and keyboardist, composer, recording artist and producer. His projects range from solo piano, to his jazzy funk trio DiVoM and his jazzy funk duo Project 'Sticks & Bones', to his straight ahead jazz piano trio Project 'Jazz' and his progressive straight ahead jazz piano trio Project 'Nazz', to his 'Conversations in Music' series. He is an extremely versatile Sedona musician who knows how to please a crowd and keep them coming.
Please visit www.steakhouse89.com to make a reservation or call 928-204-2000.
Steakhouse89 is located at 2620 W. S.R. 89A, Sedona.