Chantry Trial: Attorneys begin closing arguments after four weeks of testimony
Prosecuting attorney calls former pastor a 'sick, twisted pedophile'
Originally Published: August 16, 2018 7:13 a.m.
CAMP VERDE – Prosecuting attorney Susan Eazer called the defendant in a child assault and molestation case a 'sick, twisted pedophile' Wednesday during her closing rebuttal.
Thomas Chantry, 47, faces felony charges involving five counts of child molestation and three aggravated assault charges. He is accused of committing these offenses more than 20 years ago while he worked as a pastor at Miller Valley Baptist Church in Prescott.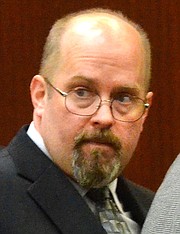 Chantry left Prescott 10 years ago and became a pastor in Wisconsin. He was arrested in 2016 when accusations of molestation and abuse from more than 20 years ago began to resurface. Alleged victims and their families first reported incidents of abuse to the church but no reports were made to the police until 2015.
The trial is now in its fourth week. Jury deliberations are expected to begin Thursday.
Before closing arguments Wednesday, the State brought in the grandmother of one of the alleged victims who was also Chantry's secretary at the time the accusations took place.
The grandmother testified she watched Chantry leave his office to spank someone else's grandson. She said she remembers seeing Chantry take off his belt as he left his office.
During Eazer's closing arguments, Eazer went over the evidence in each of the alleged victim's testimony. Eazer said there is not only beyond a reasonable doubt, but any doubt that Chantry committed offenses of child assault and molestation.
"The victims aren't jumping on a hashtag movement," she said. "These folks have come here to bear their souls. Nobody came forward in this case for attention."
She continued: "This is not a civil case. This is not a case where families get a monetary award at the end of the verdict. They will not get a prize — just peace of mind."
Throughout the trial, the Association of Reformed Baptist Churches' investigation into Chantry's misconduct was mentioned. During that investigation more than 20 years ago, nothing was reported to the police.
Tuesday, Judge Bradley Astrowsky warned both counselors to not derail too much into ARBCA as they are not being tried in this case.
"If this were a trial of ARBCA, they'd be convicted," he said. "But that's not what this trial is about."
Eazer agreed.
"It's a good thing ARBCA isn't on trial in this case," she said. "They should but they aren't."
During Sears' closing arguments, he outlined inconsistencies in the prosecutions timeline of events. He also theorized instances of honest, false memories.
"The person who has never changed or embellished his story in any way is [Chantry]" he said.
Sears said the State has casted Chantry as a "liar" for standing up for what he believes in.
"How did the system get so twisted?" he said.
Sears went on to describe Prescott Police investigation into Chantry as poorly handled and "embarrassing."
Eazer's rebuttal will continue Thursday at 9 a.m. at the Yavapai County Superior Court in Camp Verde.
SUBMIT FEEDBACK
Click Below to:
More like this story