Chantry Trial: Court dismissed without a verdict after first day of deliberations
Jury to return next Tuesday at 9 a.m. in Camp Verde
Originally Published: August 16, 2018 5:58 p.m.
CAMP VERDE – The trial of a former pastor charged with multiple counts of child molestation and assault ended its fourth week Thursday without a verdict.
Thomas Chantry, 47, faces felony charges involving five counts of child molestation and three aggravated assault charges. He is accused of committing these offenses more than 20 years ago while he worked as a pastor at Miller Valley Baptist Church in Prescott. He was 24 at the time.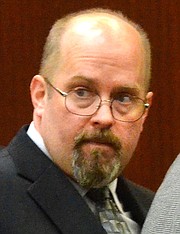 Accusations by alleged victims included incidents where Chantry disciplined children of the families in his congregation so severely he left bruises and marks. Some of the abuse later turned into molestation, according to witness testimony.
Chantry denied all of the allegations during his testimony.
Jurors began deliberations Thursday at 10 a.m. and were sent home at around 4:30 p.m. One juror has travel obligations Friday so the deliberations will reconvene next Tuesday at 9 a.m. at the Yavapai County Superior Court in Camp Verde.
Prosecuting Attorney Susan Eazer requested the release conditions be changed on Chantry as he may be a flight risk due to new evidence she tried to introduce earlier this week.
The evidence concerned a 2004 Illinois police report detailing an incident where Chantry allegedly spanked a child so hard he left bruises. Superior Court Judge Bradley Astrowsky did not allow the evidence into court as it was late into the trial. Judge Astrowsky also denied Eazer's motion of changing Chantry's release conditions.
SUBMIT FEEDBACK
Click Below to:
More like this story