The A-B-C's of AzMERIT scoring: Cottonwood, Clarkdale schools teach for success
By
Bill Helm
|
BillHelm42
Originally Published: August 18, 2018 2:15 p.m.
Is a few days' worth of testing an accurate reflection of a school's culture, and by extension, how it educates students?
Though it's important to hold schools accountable as they endeavor to educate, testing such as AzMERIT is "not the only measure of a school's overall success," according to Tamara Becker, assistant superintendent of Instructional Support at Edkey, Inc. Sequoia Schools, the parent company of American Heritage Academy's K-12 Cottonwood and K-8 Camp Verde campuses.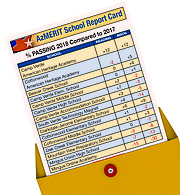 Following a 29-percent passing score in English Language Arts (ELA) and a 26-percent passing score in mathematics in 2016-2017, Eric Evans, principal at the charter school's Cottonwood campus, took what Becker called a "proactive approach."
"He knew that educating students on the importance of doing their best on all work [and] assessments was the culture change that was needed to make the positive outcomes evident for the students," Becker said.
Becker cited daily reminders during the school's morning flag ceremony that "promoted the importance of integrity and producing the best possible outcomes on classroom assignments, tests [and] organization-wide assessments" as reasons why the Cottonwood campus saw a 5-percent increase in percent of students who passed their mathematics testing.
At the program's Camp Verde campus, growth was 12 percent in both reading and mathematics.
Though the Cottonwood campus saw a 2-percent dip in its students passing of the reading testing, Evans and Becker have worked "to find instructional resources that would create a foundational learning experience for students at AHA Cottonwood," Becker said.
Those resources, she said, are "being implemented with fidelity starting this school year."
Becker also found it important to point out that AzMERIT scoring "reflects proficiency rates which account for only 20 percent of the overall A-F letter grade calculations."
AzMERIT scores for the state's schools can be found at: https://b4.caspio.com/dp/55073000ac7cf674b5974daf815f.
'Mastering those standards'
The focus this year at the Clarkdale-Jerome School District is to align its programs with the state's College and Career-ready standards, said Danny Brown, the district's superintendent.
"And we are assessing the progress students make towards mastering those standards," he said.
For the school's 2017-2018 year, Clarkdale-Jerome saw a 6-percent increase in the percentage of students who passed AzMERIT's English Language Arts component, a 9-percent increase in mathematics.
Brown said that as teachers became "more comfortable" with the district's Reading Street and GoMath programs, they will have a "better grasp on pacing their lessons throughout."
Clarkdale-Jerome teachers spend at least 90 minutes each day for core instruction in reading, at least 60 minutes each day in mathematics.
Supplemental programs such as Accelerated Mathematics and Accelerated Reading are technology-based and "encourage students to read and also assist with skills development in mathematics."
Clarkdale-Jerome also provides after-school tutoring.
Student growth
Jamie Woodward is "far more concerned with student growth" than with AzMERIT scores.
"AzMERIT is not everything we focus on," said Woodward, Cottonwood-Oak Creek's curriculum coordinator.
Data is important at Cottonwood-Oak Creek, as it helps "inform, but not to drive" the district's decisions on how to best educate its students," Woodward said.
Five years ago, the district first implemented the Reading Street program for its K-2 students. A year ago, the district expanded Reading Street to include grades K-5. This year, the program is K-6. Woodward said that just last year, she could see "the growth, slowly" with the expanded program.
For grades 7-8 this year, the district is piloting the follow-up program to Reading Street, known as My Perspectives.
Mathematics programs, Woodward said, tend to be "staggered."
That's why Cottonwood-Oak Creek is beginning to expand its Math In Focus program district-wide.
The program, which the district piloted in 2016-2017 for grades K-5, is being piloted this year for grades 6-8.
Despite the programs, there are "an incredible amount of variables" that go into education, District Superintendent Steve King said.
Student achievement, relationship building the 'source of all decision making'
At Mingus Union High School, student achievement and relationship building "are the source of all decision-making," said Genie Gee, the school's principal.
"At Mingus, we are not focused solely on test scores," Gee said. "We ask ourselves: Are we providing activities, experiences, and extra-curricular opportunities to develop the whole child? Do we have a well-rounded curriculum that supports student growth at all levels?"
It's no surprise that high school students learn differently than their elementary and middle school counterparts.
At Mingus Union, the programs aren't so new as much as the technology, Gee said.
A year ago, Mingus Union invested in Chromebooks for its English classrooms. One benefit, Gee said, is to make testing easier.
"In the past, our AzMERIT testing schedule was spread over three weeks. With more computers available and in a hope to reduce testing fatigue, we opted to try for a smaller testing window with school-wide testing administered over fewer days," Gee said.
Unfortunately for Mingus Union, the 2017-2018 AzMERIT scores "do not reflect our students' learning."
"And they do not reflect the true work of our teachers," she said. "Unfortunately, our scores reflect a technology failure."
Mingus Union High School earned a B-grade in the A-to-F grades earlier this year, but it also saw a 7-percent decrease in the percentage of students who passed the AzMERIT's English Language Arts component, and a 13-percent decrease for the mathematics component.
Though the school's leadership doesn't want to "spend a lot of time agonizing over our AzMERIT scores," Gee said she "understand[s] that we will need to own these results for this year."
"We made improvements to the technology concerns immediately and we already have the outline of a new testing schedule that will ensure students are testing in the best environment under the best circumstances," Gee said. "We are always focused on improvement and student success, so we will continue to focus our efforts in that direction. We will continue to operate and set goals with the data we have been provided, but we are certain that this was a one-year hiccup in a trend of annually increasing scores."
-- Follow Bill Helm on Twitter @BillHelm42
SUBMIT FEEDBACK
Click Below to:
More like this story