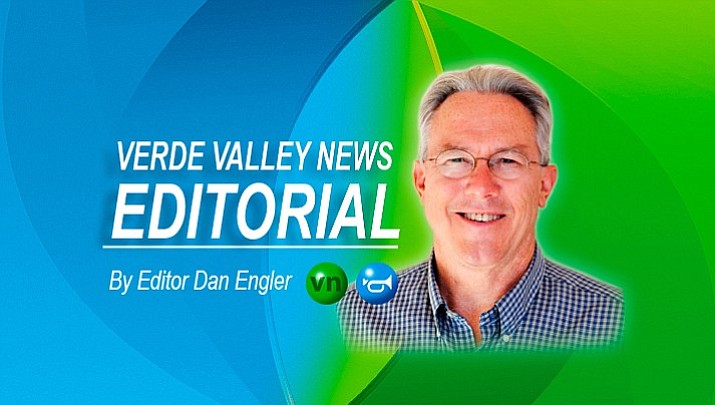 Originally Published: August 18, 2018 6:26 a.m.
The stand of unity by news professionals this past week against the mantra of "fake news" was long overdue.
The emphasis here is on professionals, because "fake news" most certainly does exist today.
At the same time, never before in the history of what once was commonly referred to as the Fourth Estate has there been more professional and thorough journalism practiced than what is available today. Especially in today's world of online news delivery, you can marry traditional print news reporting with video components and summary infographics. We have the tools today to tell a story more thoroughly and in a more compelling way than at any time in the history of our profession.
At the other end of the spectrum, you can also find some of the absolutely worst examples of what journalism is supposed to represent today. There are many self-proclaimed journalists today who have used the forum of social media and blog sites to present a clearly one-sided agenda of public and political manipulation under the guise of news reporting. What's more, they do so with legal protections that do not exist for traditional news organizations. They report news, with impunity, in a manner that would bring unwanted legal risk to traditional news organizations. They get away with stealing photographs from web sites of traditional news organizations and manipulating those images into caricatures that horribly distort the truth inherent in the original image.
Fake news most assuredly does exist.
As with any commodity or product, the warning of let the buyer beware rings especially true when choosing your source for news.
More than anything, you should expect – make that demand – that your preferred news deliverer will challenge your viewpoints with both sides of an issue. Do not settle for a news presentation that supports your political leanings or your world view.
As for the "fake news" and "enemy of the people" labels that abound today, painting all journalists with the same brush is about as fair as a journalist saying all politicians are criminal.
Earlier this week, a former colleague from both print and my former brief foray into broadcast journalism shared a Facebook post about the challenges facing journalists today.
Larry Crittenden was one of the best reporters, photographers and broadcast journalists I've worked with over the past 40 years. His view on the challenges, and unfair attacks, confronting professional journalists today is as follows:
"A quick note to a long list of my friends who are journalists, former or retired journalists, and journalists who have moved into other professions:
"I stand with you. From my own experience, I know how difficult the job can be. I know about the hours. I know what it's like to have unhappy people in my face. I know what it means to have people on both sides of a story doubting (equally) my objectivity. I know what it's like to sit on a good story because you can't nail down the last detail. And I know what it's like to screw up and apologize.
"When I hear anyone accuse you of lying or fabrication, I consider the source of the allegation, and treat it accordingly. Enough said."
And well said, Mr. Crittenden.
Another Facebook post worth sharing from the past week deals with what is perhaps the biggest problem in society today, that being the ability to respectfully disagree with one another.
It reads: "Just because I disagree with you does not mean I hate you. We need to relearn that in our society."
The next time you read or hear a report with which you disagree – especially if it's in the Verde Independent or Camp Verde Bugle – please let us know. My email is dengler@verdenews.com and my phone number is 928-634-2241 (6032).
The source of the disagreement could be a shortcoming on the side of the news organization. Perhaps we should have done a better job of fairly presenting both sides of the issue. Or, as Mr. Crittenden honestly admitted, we're human and not above screwing up.
But also consider this.
We very well could be telling you the truth.
That's our business, and a great many of us take it very seriously.