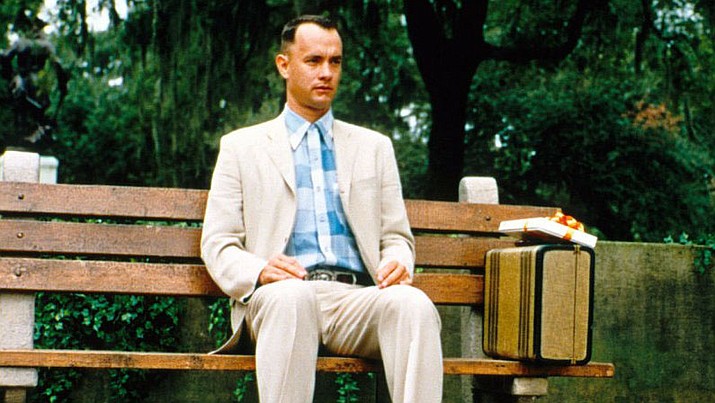 ---
---
The Sedona International Film Festival is turning 25 this year, and to celebrate, we are rolling back the clock and bringing encore screenings of hit films from 25 years ago to the Mary D. Fisher Theatre on the 25th of each month. And better yet … SIFF is rolling back the tickets to the admission price of 25 years ago for these special events: just $4.25 each.
This special year-long celebration continues with the anniversary screening of "Forrest Gump" on Saturday, Aug. 25 at 4 and 7 p.m. at the Mary D. Fisher Theatre.
"This is our way of celebrating our 25th Anniversary Season all year long and a way for us to say THANK YOU to this community for supporting our festival for 25 years," said executive director Patrick Schweiss.
"Forrest Gump" won six Academy Awards, including Best Picture, Best Director (Robert Zemeckis), Best Actor (Tom Hanks), Best Screenplay, Best Visual Effects and Best Film Editing. It was also nominated for seven additional Oscars.
Slow-witted Forrest Gump (Tom Hanks) has never thought of himself as disadvantaged, and thanks to his supportive mother (Sally Field), he leads anything but a restricted life. Whether dominating on the gridiron as a college football star, fighting in Vietnam or captaining a shrimp boat, Forrest inspires people with his childlike optimism. But one person Forrest cares about most may be the most difficult to save — his childhood love, the sweet but troubled Jenny (Robin Wright).
" 'Forrest Gump' is whimsy with a strong cultural spine." — Todd McCarthy, Variety
"This film is 'like a box of chocolates … you never know what you are gonna get' as it serves up an abundance of surprising treats, sometimes sweet and sometimes bitter." — Michael Scheinfeld, Common Sense Media
The 25th Anniversary screenings of "Forrest Gump" are sponsored by the Goldenstein Gallery with additional support from the City of Sedona.
"Forrest Gump" — the 25th Anniversary Celebration — will show at the Mary D. Fisher Theatre on Saturday, Aug. 25 at 4 and 7 p.m. Tickets are rolled back to the price of 25 years ago: only $4.25 each. For tickets and more information, please call 928-282-1177. Both the theatre and film festival office are located at 2030 W. Hwy. 89A, in West Sedona.
For more information, visit: www.SedonaFilmFestival.org.