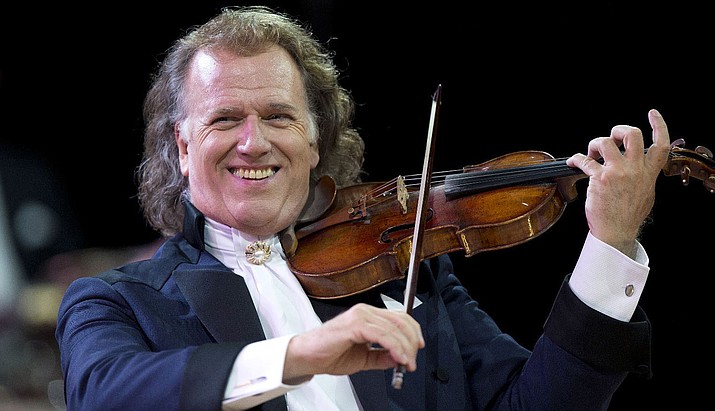 ---
---
One of the most popular live acts in the world: the King of the Waltz André Rieu presents "Amore" — his celebrated 2018 Maastricht concert — in cinemas worldwide.
The Sedona International Film Festival joins hundreds of theaters around the world for this special one-night-only cinematic event: André Reiu's 2018 Hometown Concert "Amore" —captured live from Maastricht, The Netherlands, on Tuesday, Aug. 28. The concert event was captured live in high-definition. There will be two shows at 4 and 7 p.m. at the festival's Mary D. Fisher Theatre.

Featuring Rieu's own take on classic love songs, from the worlds of popular and classical music, the "Amore" concert brings together his 60-piece Johann Strauss Orchestra as well as sopranos, tenors, and some very special guests. For this very special occasion, André will be offering a lucky winner the ultimate musical love dedication; all cinema-goers will be invited to dedicate one of André's waltz's to their loved ones, with the maestro himself announcing the winner's dedication on the night.
The unforgettable concerts that take place in André's hometown of Maastricht in the Netherlands are a sight to behold. Set against the incredible backdrop of the medieval town square, fans flock annually from all corners of the world to watch André perform, an experience extended to hundreds of thousands of fans across the world from the comfort of their local cinema.
The dramatic and alluring medieval square will be transformed into a romantic open-air concert, featuring light shows and spectacular fireworks.
The Maastricht concerts are so special and so unique with the atmosphere in the town square heightened by both the enormous crowd and the many restaurants lining the square, who all take part in this magnificent event.

Since his Johann Strauss Orchestra began in 1987, literally millions have swayed and smiled to his pied piper glory. He has sold over 22 million albums. His live shows are an extravaganza epic proportions. The most excessive and extravagant show to take on the road, this is truly a show built for pleasure.
André Rieu's 2018 "Amore" Concert will be shown at the Mary D. Fisher Theatre on one day only: Tuesday, Aug. 28 at 4 and 7 p.m.
Tickets are $15, or $12.50 for Film Festival members. Tickets are available in advance at the Sedona International Film Festival office or by calling 282-1177.
Both the theatre and film festival office are located at 2030 W. Hwy. 89A, in West Sedona.
For more information, visit: www.SedonaFilmFestival.com.