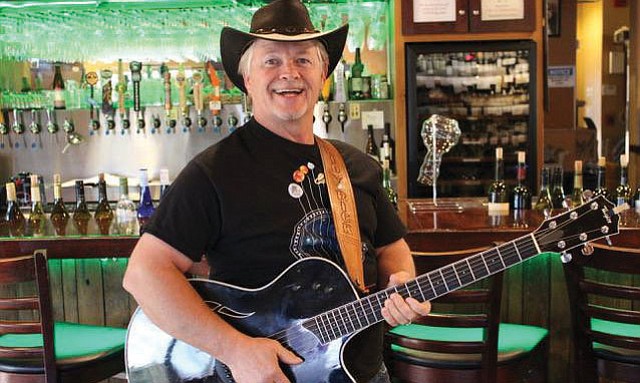 ---
---
Vino Di Sedona is the place to be on a Wednesday night listening to Rick Busbea, Aug 22, 7-10 p.m. If you ask Rick to label his music style, he will jokingly tell you, "Caribbean Country Classic Rock." As he plays favorites by artists ranging from Kenny Chesney and Johnny Cash to Van Morrison and Marshall Tucker, it's easy to see his point. 
"Rick adds his own flavor to the songs that he covers and is one of Sedona's favorite entertainers," says Vino Di Sedona owner, Wes Schemmer. Rick does play some original music, but his passion is cover songs to take his audience down "memory lane." This belief led to the creation of the "Rick Busbea Jukebox" so his audience can pick favorite songs for him to play.
Thursday, Aug 23, at Vino Di Sedona features local musician Walt Young, 7-10 p.m. He'll rock the night with familiar songs like Margaritaville that you will want to sing along with, and that will keep your tapping your toes.
Friday Night, Aug 24, brings jazz, blues and harmonies by the The Jill Beitman Trio, 7-10 p.m. Jill Beitman is a tried and true "Zonie". Born and raised in Scottsdale, Arizona, she has been influenced from day one by a family of ten sibling musicians. Her start as a professional singer began in an established "Grace Slick" band. Jill took lessons with Charles Lewis and jammed with: Pete Pearson, George Bowman, Greg Boether, and explored the depths of the "jazz and blues" thing. Her very faves are Bonnie Rait, Joni Mitchell.
Roeger Schoenfield
is a native of Phoenix, has been playin' his own
brand of Country Rock, Blue Grass and Jazzy Swing music around the valley for years. Roeger is known for his inspired vocal harmonies and un-remakable guitar style. Roeger's musical influences include Gene Autry and Dan Hicks.
Mike Thompson started playing at the age of 14. He purchased his first guitar from Mrs. Delores Rhoads,
mother of Randy Rhoads, who lived across the street. Later, he joined the Ridin' High Band 
which has now transformed into the Jill Beitman Trio. Mike's musical background includes many genres, including: big band swing, country music, blues, gospel and folk rock. He lists Eric Clapton, Jeff Beck, George Harrison and BB King as his key guitar influences.
Vino Di Sedona's Saturday, Aug 25th Wine Tasting is accompanied by music by Paolo, 3:30-6:00 PM. Paolo is an accomplished vocalist/pianist known for putting a delicious twist of romance back into jazz. His audience loves to hear his new arrangements of the great romantic songs of the past. His musical style is a modern blend of breathy vocals, rich harmonies and soulful rhythms. His "best musical friend" is his keyboard, and his "favorite song" is the one he is singing each moment.
Saturday night, Aug 25, brings Sedona sensation Robin Miller, 7-10 p.m.
Robin Miller is adored for his gutsy blues and power rock guitar playing, as well as his singing and his prolific songwriting, honed by over forty years of professional experience. His love of playing and singing is contagious. He's a diverse musician who incorporates many styles, but his fiery guitar solos, and his rich and bluesy rock vocals always get the crowd feeling energized.
Jim French's monthly Open Jam at Vino Di Sedona is a popular Sunday evening destination for locals, musicians, and tourists. Jim French and his talented friends invite other musicians to join in and play music every last Sunday of the month, 6-9 p.m.
Beat the heat with the feel of a 60's beach party with surf rock by Randy J on Music Monday Aug 27, 6-9 p.m. Randy is the lead singer and guitarist of the band the Tarantulas and he is know for his 50's and 60's style surf guitar.

Sedona's best Open Mic night, hosted by Dan Rice is every Tuesday, 6-10 p.m, at Vino Di Sedona. Each musician is allotted an amount of time, or number of songs, and every week brings a variety of new talent along with regulars like KB Bren, Chris Seymour, Randy J, David Harvey, Robin Bryer, Vickie Moyer and Dave Rice who frequently play at Open Mic.
Vino Di Sedona Fine Wine and Craft Beer, is located at 2575 W SR 89A in West Sedona. For more information or to see the full calendar of events, visit www.VinoDiSedona.com. 928-554-4682.