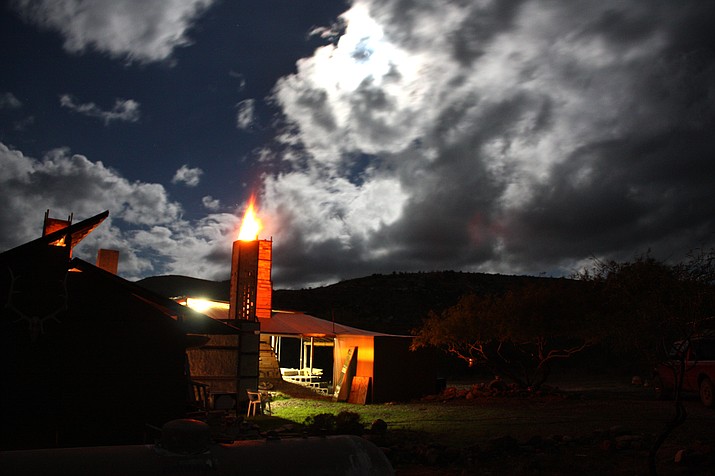 ---
---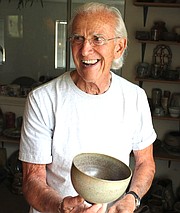 Out on Sycamore Canyon, on the banks of the Verde River stands Reitz Ranch, the former home and studio of the internationally renowned ceramic and pottery artist Don Reitz. He lived there for over 20 years, during some of the most productive years of his career.
Starting in the 1960's, Reitz was a member of a group of "Clay Cowboys" (along with Peter Voulkos, Paul Soldner and others) who turned the world of functional pottery on its head by abstracting the traditional forms into expressive sculpture without limits.
Reitz had a long career teaching ceramics first in public schools and moving to University of Wisconsin after completing his MFA at Alfred University in New York.
Known as "Mr. Salt" he is credited with reviving interest in salt firing in the United States by working to add vivid color to the previously brown works. But after almost 30 years he answered the call of wood firing, left the University and bought the ranch, his refuge from academic and bureaucratic pressures.

After building kilns in Flagstaff and Japan, he returned home to build his own complex of four wood kilns and a salt kiln, overlooking the river to rocky hills and the Verde Valley train.
When Don passed away in 2014, the ceramic world feared the ranch would be gobbled up as a summer home, the kilns bulldozed and Don's legacy would fade from the Verde Valley.

Fortunately, that was not to be. In early 2017 Sheryl Leigh-Davault and Ted Davault purchased the property with the dream of developing it into the Reitz Ranch Center for Ceramic Arts. The mission of the Center is to carry on Reitz's vision by contributing to the ceramic community via an open studio program for the local artist as well as workshops, classes and wood firings led by both local and nationally known clay artists benefitting artists throughout the United States.
"We've gotten so many emails and met so many people who are so excited that we're continuing Don's vision for a ceramics community with robust education and advancement," said Sheryl. "Whether you are a beginning potter, hobbyist, or professional artist, the ranch offers opportunities at every level. We have a fully equipped studio, kilns from electric, gas and wood fired as well as plans to build a soda kiln this fall. But most importantly, we are a community of wonderful people, excited about ceramics and just as excited to share it."
The Reitz Ranch Center is excited to announce a full slate of fall classes for potters on all levels and with a variety of interests. The classes begin in early September and they are:

• Wood Firing, Ben Roti, September 6-27
• Hand Building, Dexter Woods, September 10 - October 15
• Throwing on the Potter's Wheel, Ben Roti, September 6 – October 11
• Throwing on the Potter's Wheel, Kelley Foy, September 11 – October 16
• Intermediate Wheel Throwing, Mike Upp, September 15 – October 20
For more information on the ranch, classes and open studio space, please go to their web site at www.reitzranch.org or call Sheryl Leigh Davault at 602.882.8553.