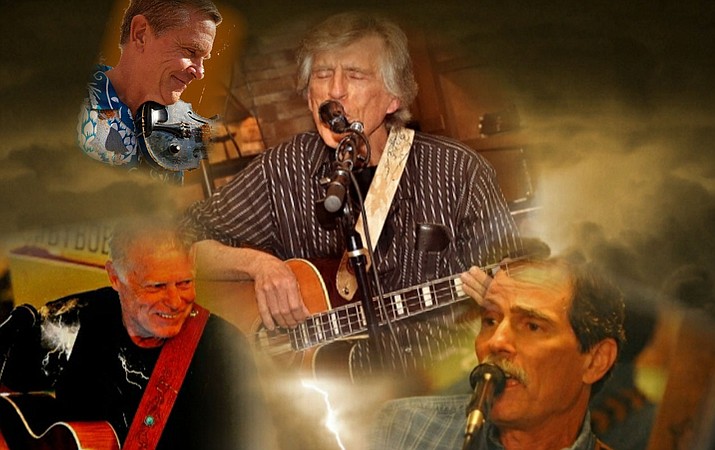 ---
---
The Grasshopper Grill at the corner of Page Springs and Cornville Roads, this week features live entertainment Tuesday and Thursday through Saturday, starting at 5:30 p.m.
The entertainment week kicks off Tuesdays with the relaxed style of Rick Busbea. Busbea offers up a great mix with a focus on covering favorites like Kenny Chesney and Jimmy Buffet. Here "Cheeseburger is Paradise" takes on a whole new meaning. Not to be limited, however. Rick fears no genre and can be counted on to fill a wide range of requests from the furthest reaches of popular music.
Thursday, August 23, its acoustic rock musician Tommy "Rocks" Anderson. Just off his California tour, Tommy combines a mix of classic rock, pop, reggae, R&B and original songs along with the best of the Beatles to create truly memorable shows.
Often incorporating a loop pedal into his solo acoustic shows, Tommy gets rave reviews from his audiences and is surely a performer worth seeing time and time again.
Friday, August 24th, Christy Fisher, returns to the Grasshopper lounge. Known as the entertaining ukulele strumming vocalist who fronts a variously populated band called Cattywampus, Christy's genre choices range from acoustic pop, and rock a bit of bluegrass thrown in for good measure and a spin on everything from Aretha to Zeppelin.
Saturday, August 25, Thunder & Lightnin' strikes at The Grasshopper Grill. Just off a concert appearance at the Town Park in Clarkdale, this show now features Arizona fiddle icon Tony Cook. Known for their fun-loving and grassy Roots-Americana bent, the band also reaches deep into less traditional genres for these instruments.
Cook adds mandolin to the mix as well, joining Rob Gibbs' banjo-guitar and harmonica work, Tom Wehr's rootsy bass lines, and Steve Estes on 6- and12-string guitars.
Expect a tight precise musical presentation, clean harmonies, and a lot of fun banter with the audience. Loyal fans attest this band lives by its one-word mission statement: Fun.
The Grasshopper Grill is open from 11 a.m. to 9 p.m. daily, located at 1160 S. Page Springs Road, Cornville. (928- 649-9211).