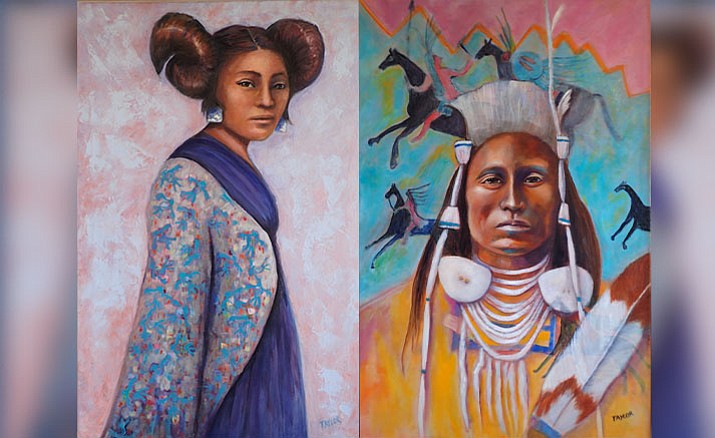 ---
---
First Friday event on Sept. 7 that presents paintings by Karen Taylor and contemporary ethnographic jewelry by Victoria Z Rivers. The work will be on view at the Sedona Arts Center Special Exhibition Studio in Uptown Sedona.
For the first time, Sedona artists Karen Taylor and Victoria Z Rivers are exhibiting their works in a show that highlights contemporary native art and international culture.

The theme of the show is "Faces and Places" and features Karen Taylor's vibrant, poignant paintings of Native people and Victoria's jewelry fashioned from antique elements. The antique silver exhibits a patina of wear from the very heart of Morocco and its Berber tribespeople.

Victoria Rivers' jewelry will be presented on rustic, antique baskets, copper pots, and lacquer basketry collected from around the world, further reinforcing the "Places" concept. Taylor's contemporary oil portraits capture the spirit and dignity of her subjects. Some of her playful Kachina paintings will also be on display.
The Special Exhibition Studio is located by the Art Barn, 15 Art Barn Road in Uptown Sedona. Both artists will be present at the opening to answer your questions.
The First Friday opening is Sept. 7 from 5-8 p.m. and admission is free. The exhibition continues Sept. 8 from 10 a.m. until 5 p.m. These fabulous works will be for sale.

Check out our websites: www.karentaylornativeamericanart.com and www.victoriazrivers.com