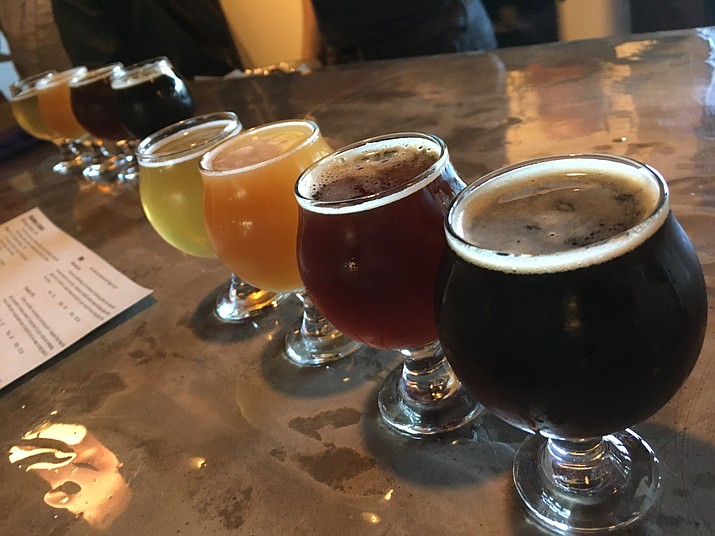 ---
---
These three Verde Valley couples share more than just their love for beer.
They also love to make beer.
Kali Gajewski and Mac Crawford are the newlyweds of the brewing business in the Verde Valley. They opened the Sedona Beer Co. on Jordon Road in Sedona within the past month after almost a year of construction.
Couple "No. 2" is Fred and Rita Kraus. They founded the Oak Creek Brewing Co. in Sedona in 1995.
Couple "No. 3" is Steve and Tamara Morken who own That Brewery, now in its fourth year of brewing beer in Cottonwood.
The Brewery Newlyweds
The Sedona Beer Co. owners, Gajewski and Crawford, have totally renovated an old sushi restaurant at 465 Jordan Road in Uptown Sedona into a comfortable pub and microbrewery with an outside patio looking out at red rock formations.
"The way you say it in the industry is, if you want to work in a brewery, you open your own," Gajewski explained. "Many couples get started by home-brewing together ... We have these complementary strengths that work well together."
While being interviewed, Crawford was in carpenter's overalls building a table and finishing construction of the brewery.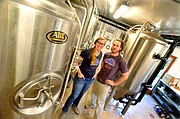 A week later, on opening night, he was greeting customers in a dress shirt and vest, while Gajewski served customers in the brewery's custom-made shirts bearing employees names.
The beer menu listed Hefeweizen, Session IPA, Golden Ale and Dark Mild and a list of bar-food items such as custom-made deviled egg appetizers.
Gajewski grew up in Sedona. The couple met at the University of Colorado.  Gajewski has an undergraduate degree in communications and sociology and a master's in social work while Crawford has a master's degree in civil engineering.
The couple moved to Sedona in 2016 after her mother passed away. "Part of the reason of moving back was that we thought Sedona needed more craft beer. And we had this crazy dream that we could do it," she said.
She said she signed the lease on the Jordan Road property in September 2017 and have been renovating the building since. "It's been a long run. But it's been a really, really fun adventure to build this."
Sedona Beer Co., Gajewski explained, is a "boutique brewery."
"The majority of the beer we will sell comes out of our tap room ... We want to make complex and interesting beers that have a variety of histories."
Gajewski said when you distribute beer, you lose contact with the product. It gets warm, exposed to sunlight, and the brewery loses control of the quality of the beer.
The brewery has five beers on tap right now in a British-ale style of brewing. Gajewski expects to get up to eight or 12 taps pretty fast.
"We feel our customers are going to tell us the beers that they like so we are going to brew a variety and see what they say," Gajewski said.
The couple also plans to have a robust barrel aging program, where beer is stored in bourbon, tequila, wine or fresh oak barrels to pull flavors.
Gajewski said it's important that they use local ingredients, so they will purchase barley grown by Hauser and Hauser Farms in Camp Verde, which will be turned into malt by Sinagua Malt in Camp Verde. "Their product is excellent and it's important we buy anything local we can.," she said.
"Craft beers are on the rise across the country," Gajewski continued. "I think Northern Arizona is actually behind the curve a touch, except for Flag. There's eight craft breweries in Flag, which is a lot for their population, but they are doing great."
The Sedona Beer Co, will have a bar-pub menu and two outside patios. "We really want this to be a place for both locals and tourists to be a really kind of relaxed environment. It's not rushed. It's not uptight, it's just a fun place to be.
"I love our building. It's a beautiful building and I don't think there's much like it in Sedona." Gajewski said.
There is a parking lot belonging to Sedona Beer Co., in the back and a public parking lot next door, also.
The Old Masters
The only other microbrewery in Sedona, Oak Creek Brewery, opened in 1995 as a microbrewery and small tasting room and "immediately exploded into popularity," according to owner Fred Kraus.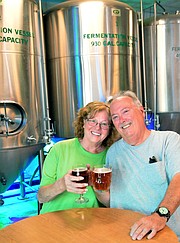 "Oak Creek had the second Class 3 microbrewery license issued in Arizona. Including brewpubs, there are now hundreds in the state," he said
Kraus said he had no idea his beer would be so popular. "I just wanted to do it because I developed a taste for great beer living in Germany for almost 14 years." Kraus said he was a civilian engineer working for the U.S. Army in Europe and decided to make the switch into brewing. He did a master brewing apprenticeship at Hufeisen Brauerei in Pottenstein, Germany
In 1993, Kraus returned to Sedona and found an out-of-the-way former lumber yard at 2050 Yavapai Drive. It was "four walls and roof," said Kraus.
Oak Creek Brewing started with kegs only, brewing about 300 barrels (two standard-size kegs) of beer the first year.  Today -- between keg and packaged/bottled beer -- Oak Creek does about 5,000 barrels year, "which in the grand scheme of things is not that large," said Kraus.
"It was more evolution than revolution," Kraus said of the success of his popular beer.
"We started out small. Every day we'd be finished with our office work. We'd put a sheet on top of it, open the doors at 4 o'clock, and open the tasting room," he said.
"Rita would call all of our accounts," he continued. "Then I would go out and sell beer, starting in Sedona, then Verde Valley, then Flagstaff, and I would actually physically deliver each and every keg to all the accounts" from the back of his Ford F150 pickup truck.
Oak Creek Brewing started bottling beer around 2000, he said, and now distributes throughout Arizona. Oak Creek has 10 standard beers and four beers in packages. They brew special beers during the seasons. Oak Creek also has a restaurant in the Tlaquepaque Arts and Crafts Village in Sedona.
Kraus said the Sedona-Oak Creek identity has helped in the marketing of his beer "immensely in Arizona."
"Quite a few people know Sedona. There's even a mini-van named after us," he joked.
Kraus said competition in the brewing business has become "really fierce," and Oak Creek Brewing needs to maintain its established flagship products and grow them in places like Phoenix and Tucson and "keep on with our little tap room here, which is a lot of fun and is very much a local's hangout."
Kraus said he had no plans to distribute out-of-state.
With craft beer, people are becoming "state-centric," Kraus said. "When people are in Colorado, they want to drink Colorado beer. People have learned that fresh beer tastes the best. Every time a beer is stored, warmed or pasteurized, it changes."
Asked what beer he drinks when traveling, Kraus said, "I search out the most local thing I can find. I look for smaller, more hands-on."
Kraus is not surprised that his microbrewery and tasting room is a popular spot for local musicians to play and even has a weekly drum circle.
"We got pictures early on where it looks like mini-Woodstock in here," said Kraus. "Beer does that. It's a coming-together of people."
'THAT Brewery'
Owners of THAT Brewery in Cottonwood, Steve and Tamara Morken worked together in the corporate world at Honeywell Aerospace in Phoenix. Steve held several key positions including inventory management, pricing, marketing, sales and new business development. Tamara's areas of expertise included customer service, contract negotiations, sales and marketing development.
Steve said he learned to brew beer at home before opening the Pine Pub in Pine, Arizona, in 2004.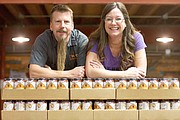 "It's all the best science. It works whether it's big or small, said Steve. "He attended brewing school in Colorado before opening the Cottonwood facility.
"It was the love of brew," that got him interested in making beer, Morken said. He said he has always been handy and built the brewery from the ground up. "You just have to Google everything," he joked. "The brewing community is very friendly ... You always have someone you can ask or reach out to."
Morken credited the brewers from Four Peaks Brewery in Tempe for keeping him from making a lot of mistakes.
The couple opened THAT Brewery in Cottonwood four years ago in August of 2014.
"We're doing good. We're continuing to grow," Morken said while sitting on a picnic table inside THAT Brewery's main production facility in Cottonwood surrounded by stacks of Strawberry Blonde cans – the brewery's biggest selling beer.
THAT Brewery just came out with "Fossil Creek" 15-packs of beer to compete with other larger breweries in the supermarkets for shelf space. Right now, THAT beer is in some Safeways, Fry's, Whole Foods, Sprouts and other chains in Arizona.
"The big guys take up a lot of shelf space," Morken pointed out.
The brewer said THAT started with three fermenters when they opened in Cottonwood and have added two more because of their growth.
THAT does not bottle their beer as Oak Creek does, but cans four beers that they distribute all over Arizona.
"The tap room is doing really well," he continued. "Better than expected. THAT Brewery has local musicians, indoor games and local food trucks that back up to their building for customers some nights.
Morken said the distribution side has not grown as fast as expected, but "there are lot of other breweries coming in every year."
"We were something like No. 15 when we started and there's over a hundred breweries in Arizona now," he pointed out.
Morken said the Cottonwood location has worked out very well for them. "We love Cottonwood."
The warehouse they took over for their brewery at 300 E. Cherry Street was just being used for storage of a motor home and some motorcycles, Morken said.