Six seniors lead Camp Verde girls soccer team
Originally Published: August 30, 2018 7:38 p.m.
Armed with a slew of returning seniors and juniors, Camp Verde High girls soccer looks to return to the state tournament.
The Cowboys feature 13 upper classmen, six of which are seniors.
Camp Verde opened the season on Tuesday with a 1-0 win over Show Low after overtime.
"Right now they're looking pretty good, they're doing what I ask them to do," CV head coach Javier Pineda said. "We still need to work on more conditioning and settle it down, we're getting a little too anxious sometimes. We're looking pretty good."
Camp Verde features four sophomores and one freshman.
"We're doing really good actually," CV senior captain Emily Orellana said. "We have some new players but they're adjusting well. Us seniors are kinda taking things one day at a time and we're conditioning, we're moving around. We still got a few things to work on but we're doing pretty good, especially to start the season."
The Cowboys return defender Tanna Decker and forward Tyra Smith, who were second team All-Central Region last season and goalkeeper Brina Church, who was honorable mention. Church and Smith are seniors this year and Decker is a junior.
They lost midfielder Alexandra Schaeffer, who was second team all-region.
Photo Gallery
Camp Verde Soccer Season Openers 082818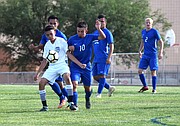 Camp Verde High boys and girls soccer opened the season on Aug. 28 and both won their debut. VVN/James Kelley
"The senior class is pretty strong," Pineda said. "They've been playing together since they were little. They should be competitive enough to try and make it to the State."
Last season the Cowboys went 9-5-1, narrowly missing out on the four-team state tournament.
"We are definitely starting a lot stronger than we did last year and that is very good, like we all feel like a team, we feel like we're joined, we're speaking, we're moving, we still have to work on our passes and controlling the ball a little better but I know that we'll do great at the end of the season," Orellana said.
Camp Verde is opening the season playing some of the mountain schools before starting region play on Sept. 11 against state runner up Chino Valley on the road. Then they head to the Show Low tournament on Sept. 14.
The Cowboys host defending state champion Northland Prep on Oct. 2 and then play NPA again on Oct. 18, at home, to close out the regular season.
"Right now we're playing a lot of the mountains, Show Low, Snowflake, Blue Ridge, some of the stronger teams from over there," Pineda said. "So it looks a little tough, but it's better for our team, that we know how they play and then our girls can play up instead of down, so that's what I like about the schedule this year compared to last year's."
Camp Verde's next home game is Sept. 4 against St. Johns at 4 p.m.
The Cowboys bested Show Low on Tuesday thanks to a goal by senior forward Guadalupe Orta at the end of the second half of overtime.
"It was pretty good, there was some things that we need to work on but all in all they played really good," Pineda said.
The overtime, which is two 10-minute halves after the 80 minutes of regulation, was back and forth with each team having a number of chances.
"It was nerve wracking," Orellana said. "At the end of the 80 minutes we didn't know how to feel, we were tired, we're not used to playing this long of a game, but we did good."
More like this story
SUBMIT FEEDBACK
Click Below to: