Youthful Camp Verde boys soccer opens season with win
Originally Published: August 30, 2018 7:48 p.m.
Again hit hard by graduations, Camp Verde High boys soccer hopes to reload rather than rebuild.
Although they are short on seniors and lost two All-State players, the Cowboys opened the season on Tuesday with a 3-2 win over Snowflake.
"We're young," CV head coach Dave Miller said. "I've got three seniors, two experienced and then one is super athlete, one of the better athletes at the high school in Chris Holdgrafer. So we're giving him all the opportunity to grow because being an athlete he's just pick it up the more opportunity he gets and has to play but other than that, we're all sophomores and freshmen. We've got a good sprinkling of seven or eight juniors in there but we're just super young. We graduated everybody the last two years and so we're just building up."
The Cowboys feature just three seniors: captain Joseph Jones, Brandon Cruz and Holdgrafer.
Photo Gallery
Camp Verde Soccer Season Openers 082818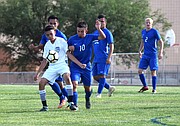 Camp Verde High boys and girls soccer opened the season on Aug. 28 and both won their debut. VVN/James Kelley
"I think we're looking pretty strong, we're young, with three seniors, two that have experience, one that's never played before, but after this game I see a lot of potential," Jones said.
In the spring, Holdgrafer set four personal records and took third in 110-meter hurdles, sixth in the 300m hurdles and 15th in the triple jump at the state track and field meet.
"He's played a little rec ball in the past and he played a little bit in the summer with us a couple times," Miller said. "That's just a great kid and he's friends with most of the guys on the team and so he came out to learn it and being a real athlete, we can teach you the game. He'll be specialized on where we can play him at, his touch on the ball will be a little bit less developed but there's opportunities for a person who's quick and fast and as big as he is to score the ball."
The Cowboys lost Nate Schultz, the state player of the year and goalkeeper Preston Maynard, who was also first team All-State. Alex Ortiz and Wesley Loveall, who were second team All-Region, also graduated.
However, Jones was second team All-State.
Sophomore Luis Venegas takes over at starting goalkeeper.
"It's gonna be hard but I think we can still do it," Jones said about replacing last year's seniors. "Preston I don't think will be replaceable but we have the next best, Luis, and he'll get the ball 100 percent."
Last season the Cowboys lost 11 seniors from the 2016 side, but still went 13-4-2 and made it to the state quarterfinals, falling in penalty kicks as the No. 3 seed. Miller won region coach of the year.
"They're just unbelievable I mean last year we lost the top player in the state, in Nathan Schultz and the best goalie in the state in Preston Maynard," Miller said. "That's the reason why nobody's really looking at Camp Verde this year because you can't lose two players of that quality and then just come back. We're a small school and so we have a limited pool to draw from we've been able to rally 35 boys out to come and play and so they're pretty excited about it."
Against Snowflake, the Cowboys found themselves down 1-0 early on, then equalized and then fell behind against before tying it up at 2-2 heading in halftime. Then CV scored the game winner in the second half and held on to get the victory.
"I think in the beginning we weren't in the game but as we kept playing we got more into it and then I think it was first one to the ball and we got the last shot," Jones said.
More like this story
SUBMIT FEEDBACK
Click Below to: