Slow starts hampering Mingus Union boys basketball
Originally Published: December 1, 2018 2:19 p.m.
Updated as of Saturday, December 1, 2018 2:19 PM
Playing shorthanded, Mingus Union boys basketball has started the season 2-5.
On Friday night in their home opener, the Marauders lost 66-55 to Phoenix Moon Valley.
"We're frustrated, we're struggling right now, we just didn't seem to have a spark," Mingus head coach Dave Beery said. "We're flat the whole game. Defensively we're not very good, that's what I saw. We're not good man to man and we're not active enough in our zone to really challenge shooters and our guys aren't flying around enough and so we gotta get better, we gotta watch some film, we got to work on some little details, better slides, better close outs, getting hands up on shooters, simple things like that we're not doing very well right now, so I think that really hurts us."
The Rockets jumped out to a 15-7 lead after the first quarter and made 12 3-pointers as they won third straight regular season game. Four Rockets scored in double figures.
Seniors Chaz Taylor with 14 points and Luke Irwin, who scored 13, led the way for the Marauders.
"There were some bright spots as far as individual play, it was nice to see Luke Irwin hit a couple of shots because he didn't exactly come out of the gates on fire this year but he's a great shooter and he's gotta kinda fill that role and step up," Beery said. "Justin Tanner I thought did some nice things [Friday] night, which again he didn't play last year, he's been a little rusty and he looks like he's starting to get his basketball legs under him a little bit and obviously Chaz is such a big part of our team and such a big part of whether we're successful or not He played a lot more solid and consistently [Friday] night then he has earlier in this season."
After Moon Valley got their lead up to double digits, the Marauders rallied and pulled to within in a couple possessions. In the second half the Rockets rebuilt their double digit lead but again Mingus Union cut it down.
"I think it was good, it shows our potential," Taylor said. "What we need to do our next step is just be able to continue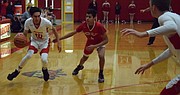 the run because even on Tuesday when we played Peoria, we had a run and got kinda close and we kinda blew it, so we just need to be more consistent when we have our runs and then we need to start off a lot faster because the first quarter's killing our team right now."
Senior Chase Saczalski seems to have dislocated his left shoulder after he dislocated his right shoulder earlier in November. He missed almost three weeks and returned for their Nov. 27 loss at Peoria.
"It's hard, he's a good ball handler, he's a talented player but we have a lot of seniors, we've got juniors that have played fairly well," Beery said. "Jaron Bauers had another pretty solid game and I think he's probably leading our team in minutes played right now and he doesn't always have great numbers in the stat sheet, but's one of the guys that does a lot of little things correctly. So somebody's got to step up and fill that void, definitely from a ball handling stand point it hurts us because we're already kinda shallow at that position and it's nice to get Chaz off the ball but chances are he'll be on the ball for the next few games."
The Marauders started the season with a 63-40 win at Buckeye Youngker and then went 1-3 at the alley Christian Boys Basketball Invitational. They lost to Horizon Honors, Mohave and Phoenix Sierra Linda but beat Kingman.
"Injuries really hurt us in the tournament and made it tricky and we had a really hard time handling the ball with both Chase and Chaz out," Beery said. "They had some talented kids on that team but that's a team that we should compete with. Again, you spot somebody 15 or 18 points, whatever it was at the end of the first quarter you're playing uphill the rest of the game and every kind of mistake gets magnified at that point, we've got to be better at competing right away and I kinda got on them a little bit after the game: 'you seem hate losing enough' we make a bad play and we don't have that attitude that 'I'm going to go make up for it on the defensive end' right now our attitude kinda seems to be like 'oh shucks, I better head down.' So we kinda talked about our mindset and really psychology wise where we need to be mentally."
The Marauders returned Taylor, who was first team All-Grand Canyon Region last year but lost second teamer Alex Figy and honorable mention Martin Soria to graduation.
"It's hard, we lost a lot of seniors, I like seniors, and we got a lot of seniors this year too but I think just the consistency of like Alex Figy is definitely missed," Beery said. "Last year we had some athletes that bought into their role pretty early and they knew exactly what their job was. These guys seem to be taking a little longer than I had hoped to kinda figure out exactly what their role is and so a lot of our talks have been more about the mental approach to 'what I am I bring to the table for team?,' what's our team's identity, less on specific X's and O's types of things because we gotta kind figure out who we are first."
Beery said the region should be fun and competitive this year.
"Flag High is good, Coconino is coached by coach [Mike] Moran, I probably have more respect for coach Moran than any coach I've ever met and he's a hell of a coach and they always compete," Beery said. "I saw Bradshaw at that tournament and that's a good team, they're young, they got a lot of sophomores but they're good, they play hard and they play together and that's where we want to be, is playing as hard as we've seen them play. I don't know a whole lot about Prescott yet but they always play well against us then Mohave and Lee Williams is probably the most talented team in our section; they're gonna be tough."
SUBMIT FEEDBACK
Click Below to:
More like this story