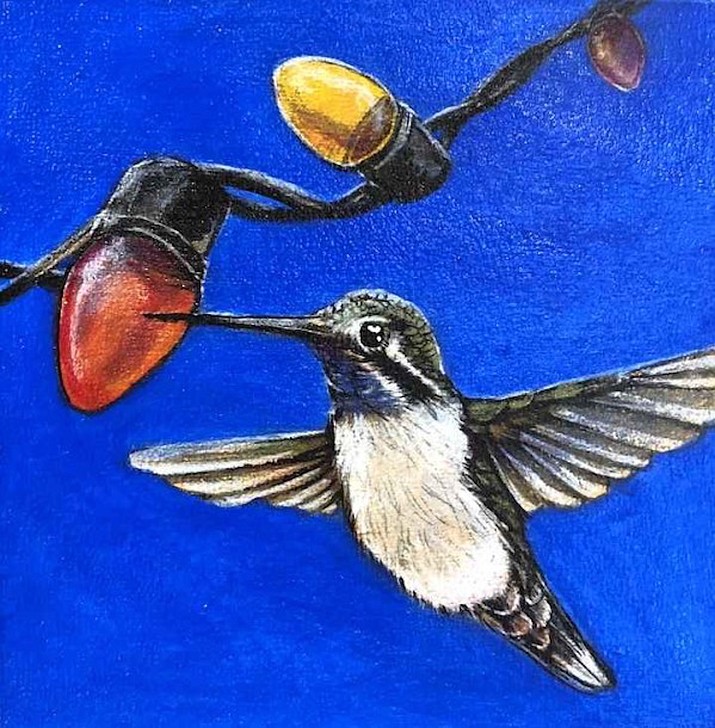 ---
---
In the Navajo tradition the "beauty way path" recognizes that beauty exists within us and around us as the light reflects through a rainbow. It is a way of honoring our connection to each other. This year as the holidays are upon us, a season full of warm hearts filled with joy and gratitude, join Goldenstein Gallery as they honor this connection with each other in their December show Beauty in Everything.

The public is invited to join Goldenstein Gallery for a Festive Reception on Friday, Dec. 7, from 5-8 pm.
"It is a season of giving," said Linda Goldenstein, "Each piece in this show is an expression of an individual artist's vision and holds a living presence. When these pieces are given as gifts…you can feel the love and it is viscerally shared with others. We are blessed to be a part of this."
Uplifting works featured include, Tiffany-like hand-cut agate lamps by Jim Pape, exotic wood jewelry boxes by Judd Lotts, exquisite painted silk scarves and ceramics by Jacqui Jackson, small paintings by Patricia Griffin, Ben Wright, Adele Seronde, Marilyn Bos, Rafe Terry and Ray Tigerman, and Jourdan Dern, "Bibi's Baubles" adornments by Beatrice Welles, pens and corkscrew bottle-stoppers for the connoisseur by Chuck Hansen and delightful bronze stocking stuffers by celebrated sculptors James Muir, David Phelps, Liz Wolf, Reagan Word, Sherab Khandro and Upton Ethelbah.
One of the highlights will be Sherab Khandro's bestselling intentional jewelry line including her recent piece "Lotus in the Heart," a symbol of our blossoming consciousness. The Lotus Heart pendant was inspired by a guided meditation lead regularly by Shey Khandro, "inviting us to envision the awakening of our own conscious in the form of a lotus. Breathing in, we expand our hearts. Pouring forth Love and regard, we embrace all living things."
There will also be a dazzling array of artistic jewelry by Dorit Herlinger, Dee Winkelstern, Reagan Word, Mary Fisher, Todd Stallkamp and Fredda Psaltis.
Cheston Trammel was mentored from a young age by local carvers and found a real passion for stone. He was a young adult when he began carving small native stone fetishes that developed into a unique style of braided jewelry.
"I've collected distinctive and antique metal pieces for years such as tools, gears and plow discs -- many different unusual metal objects. Now I'm putting these interesting pieces into my sculptured bells. The bells tell the story in how they sound and what they are made of," said Trammel .
Mary Fisher is known for her exceptional designs and distinctive crocheted jewelry in the acclaimed Abataka collection, designed by Mary Fisher and made by women in Africa.
The sights and sounds of the Arizona desert life and the holy city of Jerusalem, influence Dorit Herlinger's elegant art jewelry and Judaica. Dorit, 12th generation born in Jerusalem, uses sterling silver, eighteen-karat gold, and a variety of vibrant mixed media including glass.
Open daily, Goldenstein Gallery's address is 150 State Route 179, at the corner of SR179 and 89A.