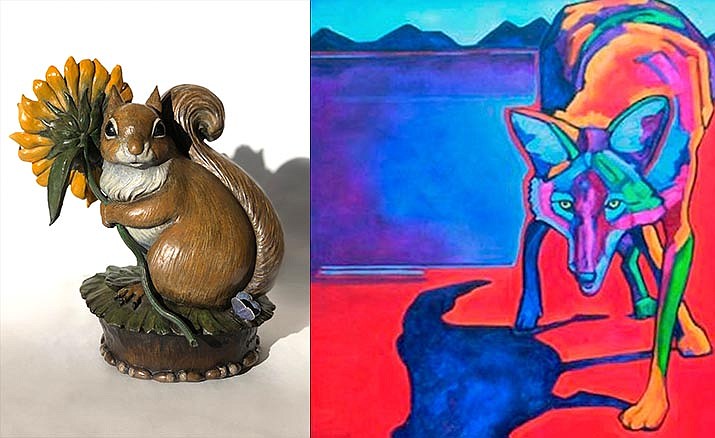 ---
---
The holidays are here, and the New Year is just around the corner. With winter solstice also occurring this month, joyfulness is in the air and there is no better place to be than Sedona.
Come out and enjoy all the beautiful lights and décor in Sedona this season. While strolling around, spend time patronizing the local art galleries while also supporting local artists. It is a great time to finish up your holiday shopping during Sedona's 1st Friday in the Galleries event, which takes place Dec. 7, 5-8 p.m. Guests will enjoy art, refreshments, music, poetry and great conversation with the gallery staff and artists themselves. This event is open to the public.
Start your journey at Kuivato, A Creative Gateways Gallery located in Tlaquepaque Arts and Crafts Village. Explore the work of Gerry Quotskuyva, a Hopi artisan expressing his artistic freedom through blending the traditional styles of dancing dolls with modern spiritual representations.
While in Tlaquepaque stop into Rowe Gallery for their "Sparkle and Shine" celebration, featuring the jewelry and sculptures of Liam Herbert and the paintings of Jen Farnsworth. Rowe Fine Art Gallery is located under the historic bell tower within Tlaquepaque, already glowing with holiday lights.
After exiting the bell tower, wander upstairs to really immerse yourself in Western and Native American Art at the Mountain Trails Gallery. Mountain Trails Gallery will be featuring one-of-a-kind jewelry with semi-precious stones by Kim Yubetta and Susan Adams of SusieQSedona. Mountain Trails is also known for its array of traditional western sculptures and paintings.
Within the Andrea Smith Gallery in Tlaquepaque, enjoy the artwork of Andrea Smith herself, such as 'Cathedral Rock Family Night' or 'Circle of Elders'. The Andrea Smith Gallery often features a working artists during 1st Friday in the Galleries, which is an experience not to be missed.
At The Gallery of Wholeness, Harmony and Radiance: A Honshin Fine Art Gallery, become a part of the "Embracing the Light of Winter's Heart" exhibit. A meditation on the stillness of winter's heart as we move toward the celebration of solstice. Wine will be served from 5-8 p.m.
If you are starting at the Hozho Shopping Center, stop by Lanning, a Bryant Nagel Gallery. Master jeweler Michael Grant, recently featured in Sedona Magazine, will be unveiling a new collection of fine pieces created from rare Castle Dome turquoise. Enjoy an 'Artist Talk' at 5:45 p.m.
In Uptown Sedona, stroll into Goldenstein Gallery as they offer several handcrafted items that make for exciting holiday gifts. Treasure boxes and bronze stocking stuffers will be for sale by a number of celebrated artists and sculptors, as well as a plethora of stunning paintings.
Also Uptown Sedona the Sedona Arts Center fine art gallery will be featuring over fifty artists in a variety of mediums. Uptown Sedona has begun its celebratory decorations which will surely get you into the holiday spirit. While at the Sedona Arts Center gallery be sure to ask about upcoming events and classes.
In the center of West Sedona ALT Gallery will be featuring an enormous selection of estate art, featuring notable artists from around the globe. Don't forget to browse this gallery's selection of out-of-print books and vintage records as well, including some holiday favorites.
For more information on the Sedona Gallery Association and the 1st Friday in the Galleries event in Sedona, call: 928-862-4440 or visit www.SedonaGalleryAssociation.com.