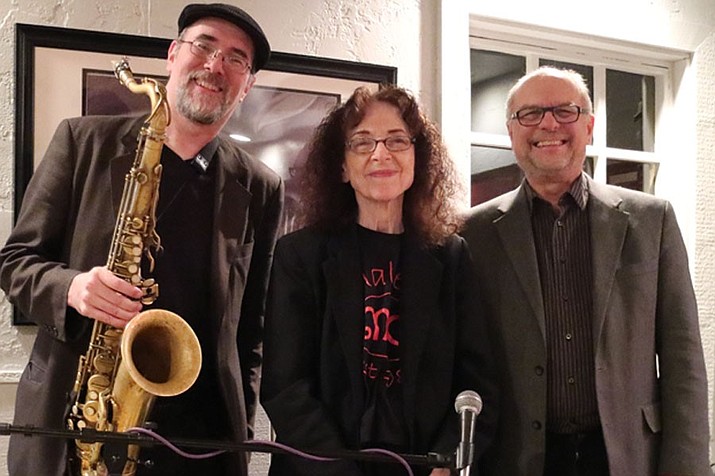 ---
---
As the house jazz pianist at Dahl & Di Luca Ristorante Italiano, I'm happy to be a part of a very special event performing with the Judy Roberts Trio; including her husband, Greg Fishman, Thursday, Dec. 6, 8-10 p.m.
Greg Fishman has performed with many jazz greats, including the Woody Herman Band, Clark Terry, and Jackie & Roy. Greg is known internationally as a jazz educator, and is particularly known as an authority on the music of Stan Getz.
Here is a short interview I did with Judy on November 19.
There is no doubt that no one in Chicago -- or pretty much anywhere -- can touch Judy Roberts when it comes to being a singer with a great outgoing personality that makes her a great "entertainer" (a term of derision in some jazz circles), and a first-rate jazz pianist. --Mick Archer, Chicago Jazz Magazine, July 8, 2016
Steve: I believe you were born into a musical family, and your dad was a performer?
Judy: Right, my dad [Bob Loewy] was a big band arranger and wrote arrangements for Fletcher Henderson and others. My dad played piano and guitar, and he was also a singer. He had a great ear.
Luckily for me, I grew up with Jackie & Roy, Oscar Peterson, and Ella Fitzgerald, so by the time I was five I knew hundreds of songs by ear. There was music playing in the house 24/7, so it became a part of me.
Steve: You started piano then too?
Judy: No, we had a piano in the house, but I had dyslexia that prevented me from learning piano in the traditional way, by learning how to read notes. As you know, I'm not a reader. I studied jazz piano with Alan Swain.
Steve: He taught a number of Chicago jazz pianists. You obviously excelled and became quite a presence on the Chicago jazz scene. You were known for having an eclectic show, an enthusiastic following and for packing the house in Chicago nightclubs. How did this come about?
Judy: For five years I was part of the house trio at the London House where I played as the opening act for all the great jazz performers of that time, like Oscar Peterson, Cannonball Adderly, Ahmad Jamal, and others. Some of the artists, like Dizzy Gillespie, were great to be around, and others not so much. George Shearing was the best, we got to be real close friends, and he showed me his chord voicings and influenced my style. Erroll Garner showed me some of his techniques. I got to closely watch these artists perform night after night.
During that time, Ray Brown, Oscar Peterson's bass player, helped me record an album along with Leroy Williams on drums for Limelight Record Company. Unfortunately, the record company went out of business, and this recording has been lost.
Steve: That was the top jazz club in the city, and probably the most high-profile setting for a Chicago jazz musician. How did you get that gig?
Judy: I was playing at Nick Tountas' club The Midas Touch on Wells Street, and a very good looking, dynamic woman, who had a lot of influence on the Chicago jazz scene, heard me there and said, "I think you'd be good for the house trio at the London House," so that was the beginning of that. This woman was forceful, had a lot of pull, and she reminds me of Lisa Dahl in a lot of ways! Nick Tountas became my bass player, and Rusty Jones played drums when I started at the London House.
After the London House, I formed a band with some great musicians, and we had an expanded repertoire like Horace Silver, Stevie Wonder, and Gino Vanelli, which was a kind of jazz fusion before there was fusion. I recorded a vocal of Horace Silver's tune "Senor Blues" after Bill Henderson did his version. My "white Jewish girl" version became a big hit locally and later world-wide, number one on the charts.
Steve: You have past experience performing in Sedona.
Judy: In 1986, we were the first musicians to perform at Los Abrigados. The place had just opened and was still under construction, but we had a contract, so we played in the lobby at first! The workers and painters were literally working at the same time we were performing! But people still came to hear us and were able to get drinks. I was there for a long time, almost a year, with a trio including Nick Tountas on bass and Robbie Wainwright on drums. [Vocalist] Dennis Rowland also worked with me for a couple months.
Steve: You'll be performing at Dahl & DiLuca on December 6, with your husband Greg Fishman on sax, and me on piano.
Judy: YES, and we love it there!! All the charm of Sedona, plus all the great dining and cool jazz environment thanks to Lisa Dahl.... Plus, Greg and I get to play with YOU, Steve Sandner!
Hurry, seating is limited and dinner reservations are required. Chef Dahl's award-winning menu available from 5 p.m. to 9:30 p.m. with late-night tapas menu to follow. To make a reservation, call Dahl & Di Luca Ristorante Italiano at 928-282-5219 or visit us at www.dahlanddiluca.com.