The cost to protect and serve: What it takes to properly outfit a law enforcement officer
By
Bill Helm
,
Kelcie Grega
|
BillHelm42
Originally Published: December 4, 2018 3:05 p.m.
How much does it cost for you to get dressed in the morning? $50? $100?
For a law enforcement officer, it may cost between $4,000 and $5,000.
But the cost to protect and serve is more than just nice threads. Basic gear and equipment officers need to do their jobs can add up.
Camp Verde Marshal's Office
The least expensive thing a Camp Verde police officer wears is the $5 name plate.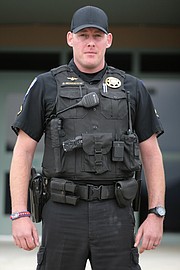 At about $850, the ballistic vest is only eclipsed in cost by the $1,000 communications radio – and the $1,000 body camera.
It's pretty weighty, and not just monetarily, the accumulation of things an officer with the Camp Verde Marshal's Office wears to protect and serve the community's roughly 12,000 people.
Because they're also trying to protect themselves.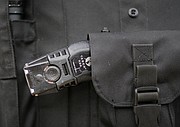 Dep. Dustin Richardson is part of the Marshal's Office's six-member uniform committee. The committee's focus is three-fold: appearance, performance, safety.
Richardson said it's "at least 50 pounds" that he carries, from his uniform to all the weaponry and accompaniments.
Which is why the exterior of the ballistic vest has several pockets for carrying things such as a flashlight, Taser, body camera and radio. Richardson said that not only does the vest help the weight "take less of a toll on your body over time," it's also "tactically more efficient."
The basic uniform consists of duty pants, duty shirts, jacket, boots, hat or stocking cap, and the duty belt gear. The belt costs $60, handcuffs $35, baton $50, gun holster $250, badge costs $85, and patches cost $10 each.
Vest – or no vest – Richardson said he can "only carry so much on my person."
Standard issue gun at the Camp Verde Marshal's Office is the 40-caliber Glock 27. Det. Mike Jardine carries the 27 which he uses to back up his Glock 22, which he said is "easier for me to use."
Guns, which Marshal Corey Rowley said are "department issued once," are between $500 and $600 apiece.
Also department issued, tasers cost roughly $400 and last until they are eventually upgraded in about five- to seven-years, Rowley said.
Out of pocket, officers at CVMO pay for their own uniforms and shoes, and are given a $1200 annual allowance, paid out quarterly – but taxed.
One pair of pants and one shirt cost about $150, Richardson said. Working four 10-hour shifts, officers need at least four pairs of each, with two short-sleeve shirts and two long-sleeve shirts being typical, Rowley said.
Cottonwood Police Department
The initial cost for basic gear for a Cottonwood Police Officer is about $1,700, said Cottonwood Police Sgt. Monica Kuhlt.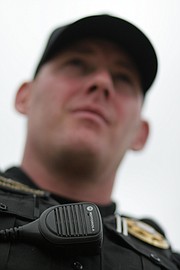 "This includes a duty belt, pepper spray/pouch, handcuffs/pouch, duty weapon/holster, extra magazines/pouch, Taser/holster," she said.
Kuhlt said these are standard issue items that departments pay for when the officer is first hired.
But budgets start to tighten, Kuhlt said, when purchasing body armor, or ballistic vests.
These costs can range anywhere between $800 and $1,200. Cottonwood PD chips in between $400 and $600 for each vest.
Kuhlt said Cottonwood PD will apply for a Bulletproof Vest Partnership grant through the Bureau of Justice Assistance to help mitigate the costs. She said the grants pays between $400 and $600 for each vest.
Cottonwood PD was recently awarded a grant for $1,600 through the Bureau.
"The grant typically pays for about three to four new vests for this year," said Cottonwood PD spokesperson Jen Mathe. "The only time an officer would contribute to the cost of a vest is if the officer elected to purchase a more expensive vest."
The grant requires each officer to wear the vest on duty, Kuhlt said.
"Unless damaged, a vest typically lasts five years before it starts to degrade," she said.
Jerome Police Department
Even smaller municipalities must pay for costly gear and equipment.
This is also true for Jerome, a town of roughly 455 people, according to the United States Census Bureau.
The total cost to outfit a police officer in Jerome is almost $5,000. But that's if everything it bought new, according to Jerome Police Chief Allen Muma.
"These costs vary a little, and many are re-issued to a new officer from an officer who retired or leaves," he said.
The initial cost for uniforms is $525. Firearms (Glock 17 9mm) cost roughly $405.
Body Armor costs $840, Muma said. Like Cottonwood, Jerome also applies for a federal grant to help mitigate the costs.
Clarkdale Police Department
In Clarkdale, the department provides $1,200 a year for a uniform allowance, said Clarkdale Police Sgt. Nicole Florisi. The allowance is paid out twice a year in $600 increments.
The cost of body armor depends on what the officer picks. A grant covers half the cost
"The last vest purchased was almost $800," she said.
Yavapai County Sheriff's Office
The Yavapai County Sheriff's Office does not require personnel to wear body armor. The agency also doesn't rely on grants to cover costs for employees, according to reporting by The Daily Courier.
Instead, officers may receive up to $800 every five years as reimbursement for a new vest. If the cost of the vest exceeds the $800, officers must pay for the rest out of pocket.
"Over the past three years, the average cost for body armor purchased by our certified officers was $865.98," said YCSO spokesperson Dwight D'Evelyn. "So the average out-of-pocket cost was $65.98."
More like this story
SUBMIT FEEDBACK
Click Below to: