City approves contract with new city manager Ron Corbin
Originally Published: December 6, 2018 3:08 p.m.
COTTONWOOD -- Tuesday, Cottonwood City Council unanimously approved a contract with Ron Corbin, who was recently selected as the city's top candidate for city manager.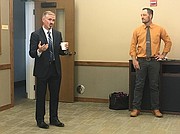 Corbin is set to start work with the city on Monday, Jan. 7, 2019. Current City Manager Doug Bartosh is retiring at the end of January. Corbin will participate in council's annual strategic retreat on Jan. 11 and 12.
Corbin's slary will be $150,000 a year.
Cottonwood Mayor Tim Elinski said council sifted through more than 100 candidates before selecting the finalists. The city interviewed four of the finalists Nov. 16- 17.
"We are grateful for the opportunity to work with Mr. Corbin," Elinski said in a city news release. "Ron's broad background and experience will be an asset to the organization as we continue to move our community forward. This is a decision the council easily reached consensus on. We are all excited to welcome Mr. Corbin to the team and eager to get to work."
Corbin is currently Deputy Administrator for the City of Yuma.
Before Yuma, Corbin worked as the human resources director for the Town of Oro Valley and deputy HR director for Yuma County.
Corbin has also been a border patrol agent, college instructor, middle school teacher and United States Army medic.
More like this story
SUBMIT FEEDBACK
Click Below to: