Chabad hosts menorah lighting, festival of lights at Tlaquepaque

Originally Published: December 7, 2018 3:39 p.m.
SEDONA -- Chabad of Sedona hosted a menorah lighting event to commemorate the first night of Hanukkah Sunday at the Tlaquepaque in Sedona.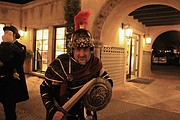 Attendees had the chance to enjoy Klezmer music, latkes and jelly donuts as they celebrated the first night of the festival of lights.
The celebration commemorates the rededication of the Second Temple in Jerusalem and reclamation of Jewish identity. It is based on Maccabees I and II, books contained in a collection of writings knowns as Apocrypha.
The word "Hanukkah" means rededication.
The Last night of Hanukkah is Monday, Dec. 10.
More like this story
SUBMIT FEEDBACK
Click Below to: