Originally Published: December 7, 2018 3:32 p.m.
Verde Canyon Railroad made its inaugural trip to the North Pole Saturday night with a train full of children and adults. The trip started in Clarkdale.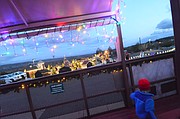 On the train, children met Santa, sang Christmas Carols, snuggled under blankets in pajamas and gazed at passing Christmas light displays of animals including a wolf and eagle. There will be 14 more trips twice a day Saturday and Sunday before Christmas.
The entire train is almost a quarter mile in length, consisting of 20 pieces of rolling stock: two locomotives, one generator car, one Pullman coach, nine first-class passenger cars, six open-air viewing cars and one caboose, explained marketing director Teresa Propeck.
The concept began with Linda Durbano, wife of Verde Canyon Railroad owner Dave Durbano.
"Linda had the vision of a whimsical Christmas train taking passengers to a life-size North Pole," Propeck said. "Linda, along with daughter and coworker, Mechelle Adair, ambitiously generated details for every single building," Propeck said.
This all-original Christmas event is full of witty and imaginary concepts, including the Ugly Sweater Factory, Naughty Kids' Coal Mine and Reindeer Flight School, which have all been brought to life in the 12-building life-size diorama."
"Once we had the sketches, some very dedicated and talented craftsmen went to work," continued Propeck.
The construction has taken approximately eight months to complete. "It is definitely one of the most unusual things I have ever worked on," said Michael Galatioto was hired specifically to strategize and construct the North Pole along with VCR employees Chad Beck. Daniel Bentley and Roman Soqui, she said.
"From the illuminated displays at the depot, to the detailed miniature village, to the decorated passenger cars, to the strategic lights along the 10-mile route, culminating at the brilliantly-illuminated North Pole, you can expect to see an amount of light far exceeding 100,000 bulbs," said Propeck.
The railroad has enlisted the help of Mingus Union High School's drama department, led by James Ball, and approximately 20 elves and strolling carolers.
In addition to the creation of the structures at the North Pole, there is the miniature Birds'-Eye Village at the depot.
Running every Saturday and Sunday night through December 23rd, The Magical Christmas Journey is a one-hour roundtrip along "Santa's Secret Rails" to the North Pole, with departures at 5:30 and 7:00 p.m. Reservations are suggested as some trains are already full. Visit verdecanyonrr.com or call (800) 293-7245 for more information.
More like this story