ROJO GRANDE: County P&Z to review 172-acre manufactured home park near Sedona

Originally Published: December 8, 2018 2:40 p.m.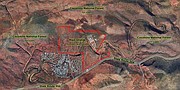 A 172-acre manufactured home park will be reviewed by the county in the next few weeks.
The project, Rojo Grande Sedona, is a proposed senior-oriented manufactured home park to be located a few miles west of Sedona on the north side of State Route 89A. It is set to take the place of the El Rojo Grande Ranch.
The proposed project, if approved, will consist of 688 parcels composed of up to 628 manufacture homes and 60 recreational vehicle sites. The spaces would be available for lease, not individual ownership.
Types of amenities have not been fully fleshed out yet, but the site may include a pool, clubhouse/meeting area and areas for activities such as pickleball, according to the letter of intent.
Yavapai County Senior Planner Tammy DeWitt said the application will be heard at the county's Dec. 20 Planning & Zoning meeting.
Equity LifeStyle Properties is the developer for the project. They currently own and manage Sedona Shadows, another manufactured home community located southwest of the proposed Rojo Grande Sedona.
According to the developer's letter of intent, they are requesting to rezone the project site as a Planned Area Development with four dwellings per acre. The site is currently zoned as "Residential; Single-Family; Rural," with a minimum lot size of two acres per dwelling and "Residential; Single Family Limited to site-build structures only," with a minimum lot size per dwelling of 70,000 square feet.
The plan is currently in escrow, meaning the sale of the site is contingent on whether or not the zone change is approved, said DeWitt.
Some Sedona residents are concerned over the Rojo Grande project claiming that it will have a significant impact on the environment and habitats of native fauna.
One website, elrojograndesedona.com, is rallying concerned residents to Yavapai County District 3 Supervisor Randy Garrison and have sent letters to the Yavapai County Development Services.
For Sedona resident James Bishop, the project doesn't "feel right."
"I've lived here 30 years and there's no question of housing shortages in many places," he said. "People in Sedona can't afford to work here. So in comes a project that is being promoted that will be a benefit for the housing situation and there is no evidence of that."
Yavapai County Planning & Zoning will review the project on Thursday, Dec. 20, at 9 a.m. Public comments will not be taken.
The second Planning & Zoning hearing will be held Thursday, Jan. 17 at 9 a.m., before the project moves forward to the County Board of Supervisors. Those who wish to speak Jan. 17 will be given three minutes.
Related Stories
More like this story
SUBMIT FEEDBACK
Click Below to: