3,300 runners take on 13th annual Sedona Marathon this Saturday
The four events to feature athletes from all over the world
Originally Published: February 1, 2018 12:47 p.m.
Thousands of runners from all around the country and globe will hit Sedona this weekend for the 13th Annual Sedona Marathon Event.
Organizers are expecting around 3,300 runners in all four distances: marathon, half marathon, 10K and 5K.
The athletes are coming from places like Norway, Sweden, Denmark, Washington, California, Texas, Colorado but mostly Arizona, said race director Jeffery Frost.
"We have a huge contingent, 40-50 runners, from Japan," Frost said. "We do a really good outreach with the Japanese running community."
The deadline to register is Friday and online registration closes at noon. After that come to the expo to register.
The marathon starts at 9 a.m., the half marathon at 9:10 a.m., the 10K at 9:20 a.m. and the 5K at 9:30 a.m.
The Start/Finish line is on Navoti Drive between Bristlecone and S. Foothills Drive, behind the Sedona Medical Center, 3700 West State Route 89A.
Parking will be available at Sedona Cultural Park and Sedona Red Rock High School.
The course travels on SR89A to Dry Creek Road from Sedona to Boynton Canyon Road (FS 152C) and then to Boynton Pass Road (FS 152C) and returns along the same route. The speed limit for cars will be 15 mph and motorists are advised to be prepared to stop.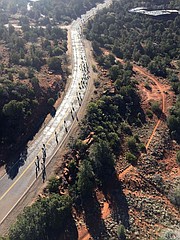 In the morning Sedona officials could temporarily close the road if there they think it's a safety concern.
The southbound lane of Dry Creek Road from Long Canyon Road to Thunder Mountain Road will be closed from 9:00 a.m. until about noon
In 2016 there were 2,500 runners and the event generated $3.1 million in direct spending.
On Friday from 2 p.m. to 8 p.m. the event expo will be held at Posse Grounds Park. The expo will have artists and live performers.
"We've always done a pre-race expo but this year we kinda expanded it by going to Posse Grounds Park, having some food options there, some more vendors," Frost said. "We've tried to find a space that would work and Posse Grounds seems to be the biggest space in Sedona for us to use. We're excited about partnering with Parks and Recreation to bring the event there."
Then at 4 p.m. on Saturday there will be a Post-Race Party at Olde Sedona Bar & Grill.
Frost said "we're doing much more" about the post-race festivities.

"We have a beer garden that's being sponsored by the Rotary Club in Sedona and benefits the Rotary Club directly," Frost said. "We do a lot of other kinds of award ceremonies. We have almost 40 different vendors and exhibitors on race day, which is as big as it has ever been, so there's a lot of opportunities and then of course you know what Sedona on a weekend is like, (laughs) what could you not do in Sedona? There's just so many opportunities, especially with the weather, it's going to be pristine."
The forecast is a high of 70 degrees.
Frost said with the 9 a.m. start the weather will be perfect for most runners, 5K, 10K and half marathon, but they will also have extra water because of the warmer than normal forecast.
"I guess it depends on your perspective," Frost said. "If you're an athlete, 70 is a little warm. Ideally you'd like it between 55 and 65 as an athlete, so we're preparing for a warmer than usual event, which means more water, that kind of stuff on the course. But as a spectator, family, friends, you can't ask for anything better."
More like this story
SUBMIT FEEDBACK
Click Below to: