Mingus boys basketball gets vital Flagstaff sweep
Marauders win both regular season games against rival for the first time since 2002
Originally Published: February 1, 2018 12:55 p.m.
Mingus Union boys basketball rallied to earn a rare regular sweep of Flagstaff and get one step closer to a home postseason game.
The No. 13 Marauders (17-10, 9-4 Grand Canyon) defeated No. 17 Flagstaff 70-67 at home on Tuesday night.
On Jan. 5 Mingus Union ended a 13-game losing streak to Flagstaff dating back to 2009. The home win meant that the Marauders swept the regular season series against the Eagles for the first time since 2002.
"It's good to win obviously, it's good to beat Flagstaff, it's been a while since we beat them in two regular season games," said Mingus head coach Dave Beery. "We didn't come out with a ton of energy, we were pretty flat to start the game off. We finished strong-ish, the very end wasn't pretty (laughs) but we out played them the second half and that's what matters. They had two or three kids that were really good (Tuesday) night so we had to really work hard to try and slow those guys down."
Although the Marauders have won seven of nine games in 2018, they lost both games to Coconino and after they fell 50-44 at Coco last week, they slipped to 15th in the rankings. The top 16 in the rankings get a home game in the play-in round of the state tournament.
"It was big because we're trying to get a home play-in game," Beery said. "We've been dropping in the rankings (laughs), some of it is our fault, losing to Coconino and some of it is because other teams are winning."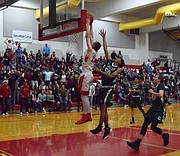 Flagstaff beat Mingus Union 61-55 at their holiday tournament but tournaments don't count in the rankings.
However, had the Eagles beaten the Marauders, they could have won the region championship. Instead the title goes to No. 12 Coconino.

Mingus Union senior forward Alex Figy said getting the sweep feels really good and so does denying the Eagles.
"It's really big, they could've taken number one in the section but we beat them," Figy said.
The Marauders trailed 32-28 at the half and by three to start the fourth quarter despite getting to within a point a couple times in the third stanza.
Mingus Union took the lead at 51-49 and then built up a seven point lead with 2:48 before the Eagles pulled to within a point when they converted on a four point play with 27 seconds left.
"I feel like we really played a lot of defense, we were talking a lot more, just playing more as a team," Figy said about the fourth quarter.
Senior guards Bryce Cramer and Kaynen Loring combined for six points but they hit a couple important shots.
"Third quarter we had a couple of guys come off the bench and hit some big shots, Bryce Cramer and Kaynen Loring, even though they're only going to have three in the stat book, both of those were huge momentum wise," Beery said. "Then I thought we did a much better job rebounding in the fourth quarter, then we had done most of the rest of the game. Our guys I felt like were engaged defensively on every play and even when Flag scored they made them work for it a lot harder than they did earlier in the game."
The Marauders close out the regular season when they host No. 29 Lee Williams on Friday at 7 p.m.
More like this story
SUBMIT FEEDBACK
Click Below to: