Mingus auto students 'an investment, not an expense'
By
Bill Helm
|
BillHelm42
Originally Published: February 3, 2018 4:41 p.m.
Mingus Union High School automotive program's Wall of Fame
The following Mingus Union High School students have been inducted to the school's auto program Wall of Fame.
The young mechanics are listed with their initial job placement. Many are still in their first placements, though some have moved on to other employment. List provided by Mingus Union Automotive Instructor Andy Hooton.
Nolen Brannen-Larry Green Chevrolet
Kevin Diaz-360 Automotive
Octavio (Davito) Gil-ABC Auto Body
Tyler Kirk-Big O Tires
Shawn Mayo-Larry Green Chevrolet
Dakota McConnell-Jones Ford
John McMenamin-Automotion
Connor McTurk-Discount Tire
Brandon Miller-Hansen's Equipment and Fleet Repair
Mackie Radd-Red's Auto Rehab
Daniel Ramirez-Discount Tire
Ryan Rozeboom-Hansen's Equipment and Fleet Repair
Sophie Schwimmbeck-O'Reilly Auto Parts
Eli Sellers-Discount Tire
Kenneth Souder-Hyundai of Cottonwood
Cherie Treakle-360 Automotive
Brandon Verdugo-Discount Tire
Rebecca Watson-O'Reilly Auto Parts
-- Bill Helm
VERDE VALLEY – For close to 20 students in Andy Hooton's automotive classes at Mingus Union High School, education is both a journey and a destination.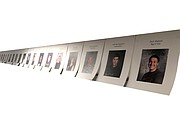 On the back wall in Hooton's classroom is a string of photographs of these students. Hooton calls it the Wall of Fame.
All it takes to be a member of the wall is to take Hooton's classes and to be employed by an automotive facility.
Which is really remarkable, when you consider that several of these Wall of Famers are still in high school.
Though the word apprenticeship is not often used in the automotive world, that's basically what aspiring mechanics do as beginners – they learn from the profession's proverbial greybeards.
And that training time can take a few years, says Dave Wittmayer, owner and manager of Hansen Enterprises Fleet Repair in Camp Verde.
"Entry level techs don't make much money," Wittmayer says. "We're trying to pay them a decent wage and provide them tools to move on. If they stick with me for a year, the tools are theirs."
School of hard knocks
Mingus Union High School is so serious about its automotive program, it has formed an advisory council of the managers and owners of its partnering auto shops.
Those leaders of the community's automotive industry are products of the "school of hard knocks," says Denny Mandeville, president and owner of Canyon Automotive in Sedona.
"The older ones may have been products of high school vocational programs, and recognize the hard work Andy is putting into his program," Mandeville says. "We all support it. Those shop owners all struggle to find new blood who want to go onto a worthwhile vocation."
As a mechanic, Mandeville's son Jacob now makes better money "than he did at his other jobs."
"My son, a graduate in '99, was so sure he wouldn't have to work with his hands [that] he, like so many others, spurned training," Mandeville recalls. "He and so many others were so sure of the gobs of income they would make going to college."
Skills of a third-year apprentice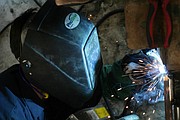 Ryan Rozeboom is the third Mingus Union student to have worked at Hansen Enterprises. A senior, Ryan is "well-rounded, not just as a mechanic, but in life," Wittmayer says.
"He's got a lot of general knowledge," Wittmayer says. "He has a lot of interest in what he's doing. Ryan's motivated, takes instruction well. Likes to weld and fabricate, that's his favorite."
Ryan says it's airplanes that first caught his fancy. But once he and his family moved to the Verde Valley, he took to cars, and worked on them with his grandfather "and my passion got kick started from there."
For young adults like Ryan, Hooton's instruction and passion has made a difference.
"Andy has taken the program and gone a ways with it," Wittmayer says. "He wants to make it a premier program. Andy's definitely willing to take input from the industry and make changes accordingly. What that program does in general, vetting the students, turning out students who are ready to become entry-level technicians."
Becoming a mechanic isn't something you learn overnight, Wittmayer says. Even on the job. At this stage, Wittmayer says that Ryan has the skills of a "third-year apprentice."
"Ryan will need guidance," Wittmayer says. "He's good with pushing himself, then asking where he needs to go."
For Wittmayer, Ryan and others in Mingus Union's automotive technology program are "an investment, not an expense."
"In five years, I want to have taught them enough that they can open their own shop, if they desire," Wittmayer says. "I very much see Ryan doing that. As an industry, we're greying. There's not so many young ones out there. So we need to do what we can to get them in here."
But Wittmayer sees more than being a mechanic in Ryan's future.
"I think he will do well in this trade, or whatever he chooses to do in life," Wittmayer says.
Since he could lift a wrench
Mingus Union is not the only school to provide talented young mechanics to the community's auto shops.
Caleb Redd, service writer at A & B Motors in Cottonwood, is particularly proud of one of his student mechanics, a senior at American Heritage Academy in Cottonwood.
Says Redd, Garret Johnson has been crawling under cars "since he could lift a wrench."
Going on two years, Garret has gone straight to A & B from school each day, first to mop, sweep and take out the trash.
Now, Redd says that Garret turns wrenches and changes oil.
"Garret has proven time and time again how to work hard and treat each car like his own," Redd says.
For Garret's senior project, he brought his classmates and teachers to A&B Motors to show them how to inspect a vehicle, as well as change oil and air filters.
"Not only did Garret plan the project, but he was the one on Wednesday evening escorting his peers around the shop and showing them what goes on in an automotive repair shop," Redd says.
Redd says he looks forward to Garret's plans to work full-time in the summer and attend automotive school in Prescott Valley in the Fall.
"Whether he commutes to Prescott with his Mustang or Jeep, that may be a problem only Garret can diagnose," Redd says.
Transferrable skills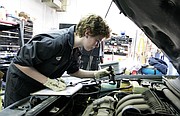 A junior at Mingus Union, Mackie Radd says that being on the school's Wall of Fame is "incredible."
Mackie works at Red's Auto Rehab a few hours every day after school, with duties such as assisting the boss with car repairs, keeping the tools clean and cleaning the shop at the end of the shift.
With nearly three years of automotive theory in the class room and labs out in the auto shop, Hooton "has taught me almost everything I know about cars," Radd says. "Without Mingus's auto technology program, I would not have the opportunity to work at Red's Auto Rehab."
Though Radd has not yet decided on a career, "auto is a career I like."
"After high school, I'm hoping to attend college and continue working," she says. "While auto repair is not for everyone, what's cool about it is that it has many transferable skills that will help you throughout your life, and can connect you to other technologies like design, engineering and science."
College isn't for everyone
Denny Mandeville has been a business owner for more than 30 years. With three formal college degrees, and countless hours of classroom time in various areas, Mandeville recognizes that college isn't for everyone.
"However, they all need to feed a family and proceed down the rapidly disappearing road towards respectable middle class," he says.
Mandeville says that he "salute[s] Andy and his approach" in preparing his young mechanics for jobs in their chosen field, that he is "offering an alternative approach to those who are not ready for post-secondary education."
"Andy has the idea, and a personality, to get his students through," Mandeville says. "I have met a few such instructors in my career, but they are few and far between. Kudos to his program."
In his third year teaching automotive technology at Mingus Union, Hooton remembers the old days when he worked jobs he didn't particularly like.
"We all have those days where we go 'why'd I come to work?'" he recalls. "I don't have those days anymore."
As of the 2017-18 school year, Mingus Union's 100-plus automotive students have earned 180 Student ASE certifications, 100 Pro Demand Automotive Information Technology Training certifications, 200 Valvoline Oil and Fluids Training certifications and 539 SP2 Safety and Career Readiness certifications, a total of 1,019 industry standard certifications earned by students in the Mingus High School Automotive Program.
Natural ability
A hands-on learner, Kevin Diaz says that ever since he was a little kid, he's always loved to work on things.
"I would always take bikes apart and tear the gears out and apart and swap them onto another bike and put them back together," says Kevin, a member of Mingus Union's Wall of Fame. "Wanting to be a mechanic has always been a dream for me and I will not let anything keep me from reaching that dream."
From 4 p.m. until 6:30 p.m. daily at 360 Automotive in Cottonwood, Kevin displays a "natural ability to pull vehicles apart and put them together on a level that cannot be taught," says Helaine Kurot, owner of 360 Automotive.
"Kevin can look at a pile of parts and bolts and put it back together correctly in less time than it took me to get it apart, even when he wasn't here for the disassembly and never saw what it looked like before being disassembled," Kurot says. "Within the first few weeks of him starting, I was already just in his way."
Kevin has also removed transmissions, replaced heater cores, and torn down engines with what Kurot says is "almost no assistance needed."
"He has never complained, and I usually have to kick him out of the shop when it's time to go home," Kurot says. "He just wants to keep going."
Kevin says his plan is to become a certified Master A technician. "After high school, I plan to continue working at 360 Automotive and also plan on continuing my education to receive my Bachelor's Degree in automotive service technology."
-- Follow Bill Helm on Twitter @BillHelm42
More like this story
SUBMIT FEEDBACK
Click Below to: