Three separate schools? Or two K-8 schools?
By
Bill Helm
|
BillHelm42
Originally Published: February 3, 2018 4:19 p.m.
COTTONWOOD – After three months of discussion and consideration, three months of data collection, and three public meetings, Cottonwood-Oak Creek Superintendent Steve King will tell the school district's governing board whether he thinks three of its schools should be merged into two K-8 schools.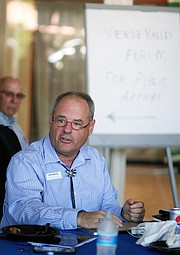 As of Thursday, King said he's still not sure exactly what he will recommend the board approve.
Tuesday, both King and the school board will take their regular session into executive session, so King can tell the board whether three schools – Dr. Daniel Bright (grades K-2), Cottonwood Elementary (grades 3-5) and Cottonwood Middle (grades 6-8) – should become two K-8 schools.
The third school, and King said he is still not sure which school is the third school, would eventually be repurposed into an early childhood program.
Though King is still not positive what he will recommend to the board, he said that parents, teachers and administrators have been "overwhelmingly positive of the concept" of a district with each of its four schools serving a K-8 demographic.
One woman was not able to attend the public meetings C-CO held in November and December to both disseminate information and solicit feedback from the public on the possible merger. That woman wrote King on Dec. 13 to offer her support on the possible change to the schools.
"As a grandmother that has four grandchildren living with her, with them going to the three different schools now, I'm all for there being two K-8 schools," she wrote to King. "It would be so much easier on me to be able to only deal with one school than having to deal with three different schools, principals, office staff and locations. I am all for the realignment and look forward to this happening."
Since King began researching the possibility of the realignment, he said he has thought it best to make the change as soon as possible, meaning the 2018-2019 school year.
When the merger would take place – if the merger would take place – are also things King has not completely decided, he said.
Also Tuesday, Cottonwood-Oak Creek's school board will officially welcome Eric Marcus to the board. Marcus was appointed on Jan. 16 to replace Linda Walker, who resigned her seat in December. Marcus' appointment will expire on Dec. 31.
At 5:30 p.m. Tuesday, Feb. 6, the Cottonwood-Oak Creek School District's governing board will meet at the District Office, located at 1 N. Willard St. in Cottonwood.
A copy of the agenda will be made available no later than 24 hours prior to the meeting. The agenda can be found at www.boarddocs.com/az/cocsd/Board.nsf/vpublic?open.
Call 928-634-2288 for more information.
-- Follow Bill Helm on Twitter @BillHelm42
SUBMIT FEEDBACK
Click Below to:
More like this story