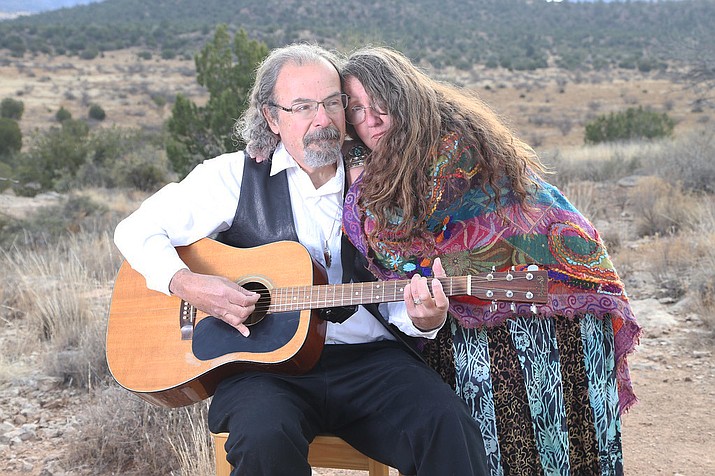 ---
---
Leslie and Larry Latour will be back for their third "Music in the House" Valentine's Day show, Wednesday, Feb. 14, singing their songs of "Life and Love" in the intimate space of the Sedona Posse Grounds Hub.
If You Go ...
• What: Leslie and Larry Latour "Life and Love"
• Where: The Sedona Hub (525B Posse Grounds Rd., next to the Skate Park)
• When:: Valentine's Day, Wednesday, Feb. 14 at 7 p.m. (door open at 6:30 p.m.)
• Tickets: $10 at the door or in advance online at www.showtix4u.com.
• CD: "Real Music" $10 at the door or $15 in advance online (includes admission) at www.showtix4u.com.
• More Info: http://www.sedonahub.org, call The Sedona Hub at 928-282-1660 or email info@sedonahub.org.
These two talented long-time singer/songwriters have another emotional and heartfelt collection of tunes about love and life's entanglements. They'll be playing a number of fan favorites, both originals and covers, songs from their 2017 CD "Real Music," and a number of new tunes for their next CD due out in 2018/2019. The concert begins at 7 p.m., doors open at 6:30 p.m., and tickets are $10 at the door or online at www.showtix4u.com. As an added treat, they'll be joined by cameo appearances from Music In The House favorites Ryan Biter, Devin Angelet, and Kris Baldwin.
Their 2016 and 2017 Valentine's Day shows at the Hub were a rousing success, and contributed to the wonderfully successful "Music in the House" performance series throughout the past two years.
This year's shows are again packing the house, and Larry and Leslie are looking to keep the love going. Their music has been described as beautifully done, elegant, and lovingly expressive. They make the room and audience their own, telling stories and singing funny and poignant original and cover tunes in an intimate style. And don't be surprised if they mix their original tunes with a little Smokey, Joni, Mamas and Papas, Beatles, or even a little Disco.
Leslie and Larry both grew up in the New York City area in the '60s and '70s and met in Bangor, Maine. Leslie was raised in a family of musicians and artists with connections to the Seeger family, and Larry was strongly influenced by musicians such as James Taylor, The Beatles, and folk icons Pete Seeger and Woody Guthrie. Recently they participated in a benefit concert for a proposed American Center for Folk Music in Pete Seeger's hometown of Beacon, New York.
They write songs in the traditional '60s spirit, singing about love, friendship, and struggle.
The Sedona Hub is the rapidly growing new live performing arts venue offering performance, classes and rehearsal space to those whose passion it is to entertain, teach and hone their skills as live artists. Visual artists' work is featured in the Artspace and special events that include the live performing arts are welcomed.