---
---
Wear your cowboy boots and hat and enjoy Country Blues at Vino Di Sedona. Wednesday, Feb. 7 brings Texas Americana, folk, and country blues by singer-songwriter Hank Erwin, from 7-10 p.m.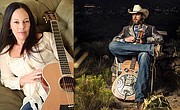 Come Rock n' Roll with Life is Beautiful at Vino Di Sedona on Thursday, Feb. 8f rom 7-10 p.m. KB Bren is a singer-songwriter and Sedona resident with a life-long music career.
Jill Cohn returns to Vino Di Sedona after on Friday, Feb. 9 from 7-10 p.m. Jill's roots are in Seattle but she has been touring the country for the past four years.
Saturday Wine Tasting on Feb. 10 at Vino Di Sedona, is paired perfectly with music by Paolo from 3:30-6 p.m. Paolo is an accomplished vocalist/pianist known for putting a delicious twist of romance back into jazz.
Following Paolo on Saturday night is international singer-songwriter Darius Lux from 7-10 p.m. Darius is an award-winning artist who specializes in classic, uplifting pop with soulful vocals. Lux plays classic covers from Van Morrison to John Mayer, and his original songs connect with the heart through inspiring themes that range from empowerment to romance.
Yarrow, a folk trio, returns to Vino Di Sedona on Sunday, Feb. 11 from 5-8 p.m. Yarrow was formed in 2011 when three musicians, Patty and Tom Hoisch and Patricia Fonseca, shared a desire to push the boundaries of the familiar.
Brian Keith Wallen, an Indiana singer–songwriter, returns to Vino Di Sedona on Feb. 12 from 6-9 p.m. for Music Monday. Brian's 2017 tour has him playing over 100 cities in the U.S. and Europe. From coast to coast and beyond, Brian is spreading his blend of blues-influenced acoustic music across the world.
Vino Di Sedona Fine Wine and Craft Beer, is a Wine and Beer Bar, and Wine Shop, with nightly entertainment. It is located 2575 W SR 89A in West Sedona. For more information or to see the full calendar of events, visit www.VinoDiSedona.com. 928-554-4682.