Credit card theft suspect in custody
The Verde Independent
Originally Published: February 8, 2018 4:18 p.m.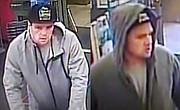 COTTONWOOD – Branden Anderson, who is suspected of using a stolen credit card, was arrested Wednesday at his Cottonwood residence after a search warrant was served, according to the Yavapai County Sheriff's Office.
Immediately following the news release issued on Jan. 25, YCSO began receiving tips naming the suspect as 33-year-old Anderson.
As the investigation continued, deputies located additional identifying information documented by a drug store clerk during the suspect's purchase of cigarettes with the stolen credit card, said YCSO.
"After reviewing archived booking photos of Anderson, deputies confirmed a match to security photos and also learned Anderson served prison time for trafficking in stolen property and drug possession," said YCSO spokesperson Dwight D'Evelyn.
Deputies discovered and verified that Anderson was living in a residence in the 2700 block of Mesa Lane. A search warrant was obtained and served Wednesday at the home.
Anderson was arrested and extensive evidence, including stolen property, was recovered during the investigation in the home, according to the release.
Anderson was booked at the Camp Verde Detention Center on the following charges:
Theft of credit card (two counts); fraudulent use of a credit card (231 counts); forgery of a credit card (five counts); criminal impersonation (231 counts); identify theft (231 counts); aggravated identity theft (two counts); theft over $25,000 (one count); unlawful possession of an access device (two counts); fraudulent schemes (231 counts); possession of meth; and possession of a narcotic.
Anderson remains in-custody on a $15,000 bond.
Before the arrest
Between Nov. 20 and 22, 2017, a credit card was stolen from a mailbox in Cornville, located in the 1500 block of South Koch Ranch Rd., said D'Evelyn.
The legal card holder/victim was not aware of the theft or illegal use of his card until a payment was requested by the credit card company earlier this month. At that time, the victim told credit card personnel that he never received the card and subsequently filed a fraud notice with the credit company, according to a YCSO news release.
During several weeks between Nov. 22, 2017, and the later part of December 2017, the suspect made purchases throughout the Verde Valley and Prescott area totaling in excess of $30,000 as a result of more than 150 transactions. Some of the fraud transactions were conducted in Cottonwood area businesses including Walgreen's, Fry's Market, Walmart, and JCPenney.
Deputies initiated an investigation and were able to obtain photos from video surveillance of the suspect directly identified as the purchaser of property using the victim's stolen card.
SUBMIT FEEDBACK
Click Below to:
More like this story