Editorial: 70 candles for The Verde Independent
Originally Published: February 10, 2018 2:34 p.m.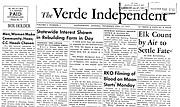 There is plenty of reason to celebrate this week.
For lovers, Wednesday is Valentine's Day.
For those most proud of the Grand Canyon State, Wednesday is also Statehood Day, commemorating the 106th anniversary of Arizona becoming the 48th state in the union, and the last of the 48 contiguous states to be admitted.
And at 116 South Main St. in Cottonwood, The Verde Independent will mark its 70th consecutive year of service to the Verde Valley Monday.
The Verde Independent's debut issue, at 10-cents a copy, hit the streets in Cottonwood and Camp Verde Feb. 12, 1948. The newspaper's original owner, Richard Brann, purchased all the parts of an unassembled flatbed press from the Holbrook Tribune the year before. He also purchased a government surplus Quonset hut from the U.S. Army in the aftermath of World War II, and set the building on a foundation in what was considered at the time an industrial park on the outskirts of Cottonwood, more commonly known today as Old Town.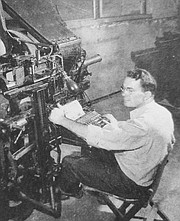 That building at 116 South Main St. – complete with its original river rock façade -- is still in use today as the office for Starlight Publishing's Ad King, and as the newsroom for the Verde Independent, Camp Verde Bugle and Kudos.
The newspaper went through a succession of ownerships until it was purchased by the Soldwedel family (Western News and Information, Inc.), from longtime owners Eugene "Marty" and Joyce L. Marten in 1979.
Under WNI's ownership, The Verde Independent expanded, over time, to its current three-times-a-week publication schedule with the first Sunday edition featuring a front-page story on a Mingus Union High School state championship football victory, Dec. 11, 1997.
The Independent established a zoned edition, the Camp Verde Bugle, May 7, 1986. Another companion publication, The Villager -- the newspaper of the Village of Oak Creek -- debuted Aug. 1, 1996. And, on Oct. 3, 2001, Kudos – the premier arts & entertainment journal of Sedona and the Verde Valley – saw its first issue come off the press.
The newspaper entered the world of online news delivery March 1, 1997, with Verde Valley Online, which has since evolved into separate web sites for The Verde Independent, Camp Verde Bugle, Kudos and The Villager. Those digital editions are married to social media platforms via Facebook, Twitter and Instagram.
Obviously, we've seen our fair share of change both in our communities and our own industry over the years. Flatbed press and hot lead operations were replaced by offset web publishing and cold type. Typewriters, pica poles and proportion wheels were replaced by computers. Twin-lens reflex cameras and film fell by the wayside first during the onset of the single-lens reflex generation of photography and later by digital cameras. In fact, many of the photos you will see in today's Verde Independent/Camp Verde Bugle are taken with 20-megapixel smart phones.
Technology has changed our business in ways our first publisher, Richard Brann, never would have been able to imagine in 1948.
What has not changed, however, is our mission. We are in the news business, and work in an era when we can deliver your news minutes after it happens to the screen of your smart phone. Whether it be through old-school traditional newspaper stories or live video streams, we are story-tellers. We document your history. We believe in, and practice, clear-light, honest news reporting. We are not hesitant to shine that light in places when some prefer we look the other way, and we are glad to shine it in places that bring a sense of pride to our entire community.
As our name clearly states, we are the Verde Valley's Independent voice of reasonable, responsible, reliable and respectful journalism.
As we have done -- without fail -- for 70 years, we are here to report your news.
More like this story
SUBMIT FEEDBACK
Click Below to: