Buffalo Soldiers return to Fort Verde State Park
By
Bill Helm
|
BillHelm42
Originally Published: February 13, 2018 1:25 p.m.
CAMP VERDE – Linus Hinton has participated in Buffalo Soldier events since 1990.
In fact it was he who suggested that Fort Verde State Historic Park hold the annual event.
"This is the only Black History Month event in Arizona, says Hinton, a resident of Tolleson.
As a historian, Hinton says it's "an honor to keep teaching the history of African Americans in the southwest."
"If we don't do it, it will come to an end," he says.
Hinton also says he's "physically fit" to play baseball in the 1860s-era Vintage Base Ball game that will also be part of Saturday's Buffalo Soldiers event at Fort Verde.
From 9 a.m. until 5 p.m. Saturday, the Fort will again host its 12th annual Buffalo Soldiers event as a way of honoring African American History Month – also known as Black History Month.
Origins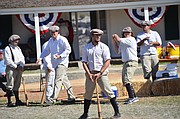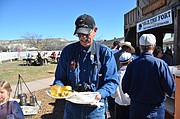 When the Town of Camp Verde first put on its Pecan and Wine Festival, it was a February event. The Fort, asked to contribute an event to coincide with the festival, decided on Buffalo Soldiers to "coincide with African American History Month," says Sheila Stubler, park manager at Fort Verde.
Though the now-named Spring Heritage Pecan and Wine Festival is now held in March, the Fort continues to honor the history of Camp Verde's Buffalo Soldiers in February.
"In the past few years, some people have passed away and others have moved away," Stubler said.
Living History Presenters
A "big history buff," Camp Verde resident Ed Lee has been a Living History Presenter at Fort Verde's Buffalo Soldiers event for the past five years.
Buffalo Soldiers, Lee says, were "subjected to a lot of prejudice." Lee says his objective is not to politicize the soldiers, but to honor their accomplishments.
A former slave, Henry O. Flipper graduated from West Point in 1877, the first African American to graduate from the prestigious school.
Lee says he chose to present Flipper because he "admire[s] people who were the first of anything."
For the past seven years, Chaz Jackson has presented Isaac Mayes of the 24th Infantry, a man he says was recognized for "fighting white outlaws."
Chaz Jackson, president and founder of the Arizona chapter of the Buffalo Soldiers Of America, Inc. Motorcycle Club, says Buffalo Soldiers were known at the time as colored troops.
With a Master's Degree in education, Jackson taught education for 22 years. He says that his group is "just Buffalo Soldiers who prefer motorcycles."
Buffalo Soldiers events
In the 1800s, base ball was spelled with two words. Says Jackson, Fort Huachuca had a Buffalo Soldier base ball team at the turn of the century.
"They had some of the best base ball players," Jackson says. "Fort Whipple, Fort Verde, Fort Huachuca, they traveled to play against each other."
At 10 a.m. Saturday and again at noon, the Prescott Champions will face the Mesa Miners at the Fort Verde Parade Grounds. Normally, the Fort Verde Excelsiors call Camp Verde home, but the Excelsiors are out on the road, so the Champions will be the host team at this year's Buffalo Soldiers.
Living History Presenters will also be on the Fort Verde Parade Grounds, as they will lower and raise the flag, as well as perform various military drills.
Dutch oven cooks Bill Stafford and Bob Tenner will cook up a batch of pork spare ribs, Cajun boiled vegetables, corn bread, peach cobbler, and plenty of water, lemonade and cowboy coffee to wash it all down.
Stafford and Tenner are on hand to prepare a good meal for each of the Fort's volunteers, but for an $8 suggested donation, there might be some extras so the public can have a hot lunch.
Anyone not hungry who just wants to watch the cooks in action can enjoy Dutch oven demonstrations beginning at 9 a.m., Stafford says.
The annual Buffalo Soldiers event is from 9 a.m. until 5 p.m. Saturday, Feb. 17 at Fort Verde State Historic Park, located at 125 E. Hollamon St.
Entrance to Fort Verde is $7 for adults, $4 for children ages 7 to 13. Call 928-567-3275 for more information.
-- Follow Bill Helm on Twitter @BillHelm42
More like this story
SUBMIT FEEDBACK
Click Below to: