Christine Schneider resigns from Camp Verde School Board
By
Bill Helm
|
BillHelm42
Originally Published: February 13, 2018 1:17 p.m.
CAMP VERDE – As Christine Schneider prepared for her final day on Camp Verde Unified School District's governing board, she reflected on some of the board's accomplishments during her five-year tenure.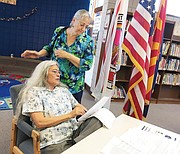 Schneider cited the success of the Fifth Day programs, now known as Friday Camps, as well as the relationship with the Yavapai-Apache Nation that helped play a role in the district graduating 100 percent of the Nation's enrolled seniors in 2017.
"And I'm proud of the superintendent we've got," Schneider said of Dr. Dennis Goodwin, whose contract expires on June 30 – and who will not be returning to the district. "He's absolutely priceless."
Dealing with family illness the past year, which she said has made for "changes in my family dynamics," as well as "continuing work schedule conflicts," Schneider has resigned her position on the school district's board effective Feb. 14.
In an email to her fellow board members, as well as to Dr. Goodwin, Schneider stated that she can no longer give "focused attention as I have in the past to be a truly effective as a board member."
"Having evaluated this for the past few months, I have decided that for our board to move effectively forward with necessary work for our community's students, it would be best to appoint someone that can dedicate the time necessary to be an effective board member," Schneider stated.
Fellow Camp Verde school board member Helen Freeman said that Schneider has a "true passion for doing what is best for the students in our district and has worked hard in her capacity as a board member and as board president towards that end."
Said Tim Roth, president of the Camp Verde school board, Schneider has been "an asset to the school board and is going to be dearly missed as a board member."
As of Monday afternoon, the office of Yavapai County School Superintendent Tim Carter is looking to fill the Camp Verde school board opening.
Anyone interested in replacing Schneider should send a letter of interest and a resume to: Mr. Tim Carter, Yavapai County School Superintendent, Yavapai County Education Service Agency, 2970 Centerpointe East, Prescott, AZ 86301. Or Fax to 928-771-3329. Or email to Tim.carter@yavapai.us.
Though a seat on the Camp Verde school board is considered non-partisan, any interested person must be a registered voter to be eligible.
Also to be eligible, any interested person must be a citizen of the United States of America, be at least 18 years of age, possess their civil rights, and have continually resided within the school district for at least one year immediately preceding taking office.
Also, any eligible candidate or spouse cannot be employed by the district, or work on a third party employment contract for the district.
Eligible candidates should include information about themselves, such as their level of education and work experience, as well as why they are interested in becoming a Camp Verde school board member.
Candidates also need to provide their physical and mailing addresses, home and work phone numbers, as well as email address if applicable.
Eligible candidates are also encouraged to include letters of recommendation or support.
Deadline for Carter to receive letters of interest is 5 p.m. Tuesday, March 6.
On Friday, March 9, Carter will interview finalists at the Camp Verde Unified School District.
Carter expects to announce the appointment by Monday, March 12.
The appointment of Schneider's replacement will be valid through Dec. 31, 2018.
For more information, call Yavapai County School Superintendent Tim Carter at 928-925-6560 or 928-771-3326.
-- Follow Bill Helm on Twitter @BillHelm42
SUBMIT FEEDBACK
Click Below to:
More like this story