7 things to know about Buffalo Soldiers
By
Bill Helm
|
BillHelm42
Originally Published: February 15, 2018 5:06 p.m.
1
Buffalo Soldiers are the African American soldiers who served from 1866 until 1951. Buffalo Soldiers participated in the American Indians Wars, the Spanish-American War, Philippine-American War, Border War, World War I and World War II.
Buffalo Soldiers served with the 9th Calvary Regiment, 10th Cavalry Regiment, 24th Infantry Regiment and the 25th Infantry Regiment.
2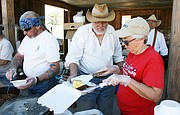 Each year, company cooks Bill Stafford and Bob Tenner lead a group of culinary volunteers as they cook up delicious Dutch oven vittles for the folks who volunteer their time as Living History Presenters.
For $8, even the general public who is attending the Feb. 17 Buffalo Soldiers event can have a meal of barbecued pork spare ribs, Cajun-boiled veggies, corn bread, peach cobbler, cowboy coffee, lemonade and water.
Stafford says he expects to feed about 40 volunteers, so portions for the public will be limited.
"The main thing is to feed the volunteers," Stafford says.
Stafford and Tenner will offer Dutch oven demonstrations from about 9 a.m. until noon, when lunch is served.
3
If you see someone dressed up in 1800s period clothing at Fort Verde State Historic Park, don't refer to that person as a reenactor. Living History Presenter is the proper term, says Sheila Stubler, the Fort's park manager.
Living history presenters sometimes portray specific persons in history, but always they tell history in their actions and with their words, such as the Fort Verde Excelsiors, who play 1860s-era base ball at Fort Verde.
Reenactors are specific to events, such as folks who recreate a particular battle such as the Battle of the Bulge, or replicate the delivery of the Gettysburg Address.
4
Cathay Williams was an American soldier who enlisted in the United States Army under the pseudonym William Cathay. She was the first African-American woman to enlist, and the only documented to serve in the United States Army posing as a man.
5
One of Fort Verde's volunteers, Camp Verde resident Ed Lee will be a Living History Presenter during this year's Buffalo Soldiers event. In his fifth year connected with the Fort's Buffalo Soldiers event, Lee portrays former slave Henry O. Flipper, who graduated from West Point in 1877. Flipper was the first African American to graduate from West Point.
6
The grandmother of Living History Presenter Charles Young was once married to Josh Gibson, one of the Negro League's best players and a member of the National Baseball Hall of Fame in Cooperstown, N. Y.
Young will be at this weekend's Buffalo Soldiers event in Camp Verde on Feb. 17.
7
According to Tolleson resident and Living History Presenter Linus Hinton, 23 troopers and officers of the 9th and 10th regiments received the Medal of Honor for their bravery during the Indian War and the Spanish-American War.
More like this story
SUBMIT FEEDBACK
Click Below to: