Camp Verde girls basketball opens state tournament at Bradshaw
No. 6 seeded Cowboys face No. 11 Thatcher in the first round on Friday night
Originally Published: February 15, 2018 1:27 p.m.
Camp Verde High girls basketball opens the state tournament on Friday with a tougher than usual foe.
The No. 6 Cowboys face No. 11 Thatcher on Friday at 6 p.m. at Bradshaw Mountain High School in the first round of the 2A state tournament. The winner plays the winner of the No. 3 Valley (Sanders) and No. 14 Glendale Prep game on Saturday afternoon in the quarterfinals at the Prescott Valley Event Center.
Camp Verde enters the tournament having won nine of their 12 games in 2018, only losing to No. 1 Sedona Red Rock.
"I think we're pretty solid but we're going to need to step up our game," said CV head coach Mark Showers. "I think Thatcher is ranked lower than they should be. I think they should be a top eight team and so unfortunately we get to play a team that probably is very close to us in ability. A lot of times in that first round you want to play somebody that is a little bit weaker and that's just not the case. So it's a good match up. On paper both teams look pretty even so we'll see what happens."
The 2A tournament is all at neutral sites, unlike much of the 4A tournament that is at the gym of the better-seeded team.
Camp Verde earned a spot directly into the tournament while Thatcher got their place with a 70-30 win over No. 22 Parker in the play-in game.
There was only two upsets in the eight play-in games and one was No. 17 Round Valley over No. 16 Benson. The play-in games were hosted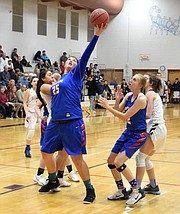 by the better seed and filled in the bottom eight of the 16 team state tournament.
"I think the top 16 teams are in the tournament and that's all that matters," Showers said. "As far as where everybody is ranked, it's difficult because the formula takes some things into consideration and it doesn't take a lot of other things into consideration, so who is ranked above somebody else is not necessarily a true picture of what actually is taking place."
Last season with a freshman dominated team, the Cowboys won a play-in game and reached the state tournament.
"I think that we can go far with it, we just have to be positive and keep our energy up but I think we can definitely go far," said sophomore guard Tanna Decker.
Showers didn't think that weeklong lay off hurts the young Cowboys after they avoided the play-in game.
"Well we still have practicing, so we're just trying to stay with it but having a young team it's kinda better because we'll have the next years with each other so we could bond more and practice together more and just work together," Decker said.
In their last game the Cowboys lost 51-31 at Sedona Red Rock in the 2A Central Region title game.
"Our first half was really good, we played so strong but then the second half it just kinda got away from us but I think we still played pretty good and it definitely prepared us for this week, for the state playoffs," Decker said.
Camp Verde received a bye in the first round of the region tournament and beat Paradise Honors 50-33 in the semifinals a week after they defeated the Panthers 54-38 in the regular season.
"It's like we did in the region, really no different, we played well against the teams we needed to play well against and we struggled a little bit against Sedona," Showers said. "I actually felt pretty good about the first half of both the last times we played them, we just couldn't sustain that kind of intensity I guess, we had a little bit of a drawback."
SUBMIT FEEDBACK
Click Below to:
More like this story