Camp Verde school board gives Dr. Goodwin home assignment
Middle School Principal Danny Howe named administrator-in-charge for remainder of school year
By
Bill Helm
|
BillHelm42
Originally Published: February 15, 2018 4:51 p.m.
CAMP VERDE – Camp Verde Unified School District's governing board decided Tuesday that it would rather pay its superintendent to not come to work.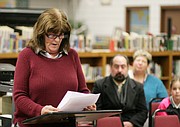 As it plans to explore leadership options both internally and externally, the board spent close to 45 minutes in executive session –to meet with its attorney and then to discuss personnel matters – before voting 4-to-1 to allow Dr. Dennis Goodwin to finish the terms of his contract on home assignment.
"The governing board wishes to provide you the opportunity to complete your district obligations while [tending] to your future needs," District's Governing Board President Tim Roth read Tuesday from a letter the board will give to Dr. Goodwin. "To accomplish this goal, the district hereby reassigns you to home with full pay and benefits" through June 30, the date that Dr. Goodwin's contract expires.
According to the agreement, Dr. Goodwin is "responsible for responding to [CVUSD] inquiries within 24 hours, either electronically or by phone."
The CVUSD board also decided Tuesday to appoint Danny Howe the district's administrator in charge for the remainder of the school year. Howe is principal at Camp Verde Middle School, South Verde High School and the district's accommodation school.
Howe said his goal as the district's interim superintendent is to "positively impact the district's kids and to move the district forward in a positive manner."
"I think I can bring that positive energy the remainder of the school year," Howe said.
A 27-year employee of the district, Howe taught mathematics and science for 19 years before he became principal of the district's middle school and accommodation school. Two years ago, Howe added South Verde principal to his resume.
"I've poured my heart and soul into this district," Howe said. "This is my home. Both of my kids have gone entirely through this district. I totally trust the education we're giving these students."
With Howe as administrator in charge, the board decided that Dr. Goodwin would work in a supportive role to Howe, and that the authority to open and close legal matter would be transferred from Dr. Goodwin to Howe.
While filling the role of administrator in charge, Howe will continue with his principle duties – as principal of three schools, the board also agreed Tuesday.
Since August 2002, Camp Verde Unified School District has employed five superintendents: Ron Maughn from Aug. 2002 through June 2006, Dr. Jeff Vanhandel from July 2006 through June 2009, Dan Brown from July 2009 through June 2012, Dr. Amber Marchant-Lee from July 2012 through June 2015, and Dr. Dennis Goodwin, who began his tenure with the district in July 2015. Goodwin's contract with the district ends on June 30.
The district's personnel matters are internal matters, as the board discusses them only in executive session.
Though some could see the home assignment of its superintendent as a punitive action, Dr. Goodwin said last week before the board's decision that the action was about "trying to have things end on a positive note."
Before he began with Camp Verde Unified in July 2015, Dr. Goodwin worked in education for 27 years in Wisconsin and Minnesota.
Dr. Goodwin was not present at Tuesday's board meeting.
-- Follow Bill Helm on Twitter @BillHelm42
SUBMIT FEEDBACK
Click Below to:
More like this story