Camp Verde school board to look internally, externally for next superintendent
By
Bill Helm
|
BillHelm42
Originally Published: February 15, 2018 4:59 p.m.
CAMP VERDE – Tuesday, Camp Verde Unified School District's governing board voted 5-to-0 to meet with Arizona School Boards Association to discuss their options and to compile a list of characteristics they hope to find in the district's next superintendent.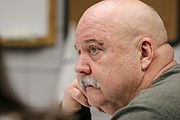 "We need a profile of what we want this person to look like," Board President Tim Roth said. "And we need to do this as a board."
In January, the Camp Verde school board decided that it would solicit the services of Arizona School Boards Association (ASBA) to fill the position held by Dr. Goodwin since July 1, 2015.
Tuesday, Dr. Goodwin was placed on home assignment by the board for the duration of his contract, which expires on June 30.
Camp Verde school board approves 2018-2019 calendar
For the school year 2017-2018, students at Camp Verde's elementary, middle and high school attended school 151 days on a four-day week.
For the 2018-2019 school year, the calendar is set for 149 days on a four-day week, as the school board approved the calendar for the upcoming school year.
Students at South Verde High School observe a five-day school week and are scheduled to attend school for 179 days for the 2018-2019 school year, after the school board approved South Verde's calendar on Tuesday.
Giving thanks
In his first acts as the district's administrator-in-charge, Danny Howe recognized board members Kitty McDowell and Helen Freeman with Academy of Boardsmanship awards from the Arizona School Boards Association.
Howe also recognized outgoing board member Christine Schneider for her five years of service to the district, including her tenure as board president in 2017.
Said McDowell, Schneider made "huge contributions to the operations of our district."
"Christine is the type of person that will approach a problem from all angles, looking for the best solution," said McDowell, formerly a teacher in Camp Verde schools before she retired to join the school board in 2014. "She is also a forward thinker who is not afraid to reach out for new ways to help educate our students. It has been an honor to work with her. I believe that her leaving will leave a large void on our board."
Board member search
As of Monday, the office of Yavapai County School Superintendent Tim Carter is looking to fill Schneider's seat on the Camp Verde school board.
Anyone interested in replacing Schneider should send a letter of interest and a resume to: Mr. Tim Carter, Yavapai County School Superintendent, Yavapai County Education Service Agency, 2970 Centerpointe East, Prescott, AZ 86301. Or Fax to 928-771-3329. Or email to Tim.carter@yavapai.us.
Deadline for Carter to receive letters of interest is 5 p.m. Tuesday, March 6.
On Friday, March 9, Carter will interview finalists at the Camp Verde Unified School District.
Carter expects to announce the appointment by Monday, March 12.
The appointment of Schneider's replacement will be valid through Dec. 31, 2018.
For more information, call Yavapai County School Superintendent Tim Carter at 928-925-6560 or 928-771-3326.
-- Follow Bill Helm on Twitter @BillHelm42
More like this story
SUBMIT FEEDBACK
Click Below to: