'Deep' Mingus Union softball ready for another run this season
Originally Published: February 17, 2018 1:06 p.m.
After last year's break through season, the deep Mingus Union softball team looks to have even more success.
In 2016 the Marauders went 6-20-1 but last year they were 22-10, made the state tournament and were in the top 10 in the state much of the season.
"I think we're looking great," said Mingus head coach John Brown. "I think we're going to be very competitive, I think we're gonna be as good as we were last year, if not better, so I think we're looking great."
The Marauders open the season on Thursday at 3:45 p.m. when they host San Tan Valley Combs.
Senior captain Nikki Zielinski said the Marauders have depth this year.
"We're looking really good there's a lot of younger girls that have a lot of potential and the older girls all have the same goal, we're a good team so far," junior captain Lacey Saravo said.
Although the Marauders lost first team All-Grand Canyon players Krista Earl Morgan Mabery and Maddie Bejarano, Brown is not worried.
"The seniors that left were very important to us, Maddie Bejarano was important to us and she's not back this year, but we've got a great young group and we've got five seniors and five seniors, so I mean we've got a lot of experience on the field, all the young kids are experienced, they play ball year round, so it's really been refreshing this year to not have to reinvent the wheel," Brown said.
Zielinski was also first team all-region. Pitcher Kaycee Williams was second team all-region.
"The girls stepping the positions that those girls left from, they're filling them really nice actually, over the summer we've all worked on our club teams so we're looking pretty good," Zielinski said.
Saravo, then freshman Jasmine Shults and then sophomore Delaney Hartnett and were honorable mention.
Williams steps in to the ace role after going 8-3 last year, leading the pitching staff in appearances and having a 3.67 ERA.
"I'm really excited to come in this year as a senior and I think my team can play behind me and we can all get our jobs done and we can be very successful this year," Williams.
Brown said the Marauders' pitching staff this year is deep.
"Kaycee will be returning, she pitched for us quite a bit last year, probably more than half of the innings last year and she is our senior this year," Brown said. "She's gotten better over the summer and faster. And then I've got three young ones, three sophomores and freshman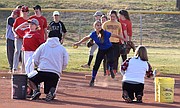 that all are quality pitchers, so we're going to have depth, that's nice."
After the Marauders batted .369 last year, Brown said hitting is Mingus Union's strength this year, both for average and power.
"We've got a lot of power, we've got a lot of speed, we've got a lot of good base running, so I really think we have the full package when it comes to offense," Brown said.
The Marauders are working a lot on the defense this year.
"We're decent at defense, so I think that will get us through and we'll keep working on that," Brown said.
Williams said their goal is to win the region and then have a good chance to take State.
Brown said the schedule is pretty much the same as last year.
"I feel like we should have won the region last year, we let it slip with a couple of games that we're absolutely in our control that we let go and this year I look to win the region, so that's our goal," Brown said.
Last season Prescott won the region by a game over Mingus Union. This year they face the Badgers on March 6 at home and March 8 on the road.
Saravo said the Marauders have been working really hard as a team.
"We're kinda like sisters, we're like a family, we really like each other, we really have fun together, we love the game of softball, so it's not like a chore working hard out here," Saravo said.
More like this story
SUBMIT FEEDBACK
Click Below to: