Yavapai-Apache Nation remembers its exodus
Annual commemoration day includes spirit run, blessings, cultural performances, food
By
Bill Helm
|
BillHelm42
Originally Published: February 17, 2018 4:02 p.m.
Schedule of events, 2018 Exodus
All events at Veterans Memorial Park, unless otherwise noted
6 a.m. – Boynton Canyon Blessing ceremony – Enchantment Resort
7 a.m. until 5 p.m. – Vendors
11 a.m. – San Carlos runners return
11 a.m. – Annual commemorative walk from Veterans Memorial Park to Culture Center
Noon – Community luncheon
1 p.m. until 4 p.m. – Cultural entertainment
4 p.m. Community dinner and social dance
CAMP VERDE – At about 11 a.m. Saturday, Feb. 24, a near 30-hour run from San Carlos will conclude with a Commemorative Walk as members of the Yavapai-Apache Nation will meet on Middle Verde Road in front of the Yavapai-Apache Cultural Center.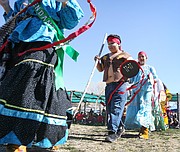 Each year on the last Saturday in February, the Nation observes the events of Feb. 27, 1875 when close to 1,500 Yavapai and Tonto Apache from the Rio Verde Reserve were forced to march east of Camp Verde to what would be their new home – San Carlos.
Incarcerated, the lives of the Yavapai and Tonto Apache peoples were irrevocably changed, as they experienced hunger and disease.
At the turn of the next century, the two nations had become the Yavapai-Apache Nation, as about 200 Yavapai and Apache were sent back by their captors – back to their new home in the Verde Valley.
Saturday's commemoration honors the Nation's return to its homeland in 1900.
The San Carlos Exodus Run will begin at 5 a.m. Feb. 23 from San Carlos. The run is a relay format with runners traveling three-mile increments day and night until they arrive at the Nation's Veterans Memorial Park, beneath Cliff Castle Casino Hotel.
At 2:30 a.m. Feb. 24, Spirit Runners will meet at the Nation's administration building, located at 2400 W. Datsi St. The Spirit Run is a relay format with runners traveling one-mile increments from SR 260 near Payson to Veterans Memorial Park.
Following the San Carlos run, Spirit Run and the Commemorative Walk will be a community lunch at Veterans Memorial Park.
Following the lunch, the Nation has scheduled various cultural performances throughout the afternoon, which will lead up to the 4 p.m. community dinner and social dance, also at Veterans Memorial Park.
The Nation is seeking dance groups to perform during Exodus. Any interested dance groups are encouraged to contact either Tanya Lewis at 928-567-1021 or Trapper Moore at 928-202-6918.
At 6 a.m. Saturday, Exodus Day will begin in Sedona with the annual Boynton Canyon Blessing at Enchantment Resort.
For more information about the annual Exodus Commemoration Day, contact the Yavapai-Apache Nation's public relations department at 928-567-1021. Or visit www.Yavapai-Apache.org.
-- Follow Bill Helm on Twitter @BillHelm42
More like this story
SUBMIT FEEDBACK
Click Below to: