Yavapai-Apache Nation plans Friday opening of casino's new hotel
By
Bill Helm
|
BillHelm42
Originally Published: February 20, 2018 3:22 p.m.
CAMP VERDE – Growing up in Denmark, Harry and Hanne Olsson likely didn't think much about casinos, nor about how they might stimulate a community's economy.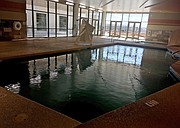 Though they grew up about 20 miles apart in their Nordic country, the Olssons didn't actually meet until each was in the United States.
Almost 40 years since they moved from Southern California to Camp Verde, the Olssons and two other couples who live at the Montezuma Heights Air Park spent Tuesday touring Cliff Castle Casino Hotel's newest addition.
From 11 a.m. until 3 p.m. Tuesday, the casino's management shepherded staff and community members through its new six-story 122-room hotel, which is located at the south end of the casino.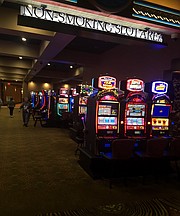 The new luxury boutique hotel tower, according to James Perry, Director of Marketing for Cliff Castle Casino Hotel, is non-smoking, as is the adjoining 110-machine gaming area closest to the hotel lobby.
Tuesday's media day was a dress rehearsal of sorts for Cliff Castle Casino Hotel, as the much awaited grand opening of its $30 million investment is slated for 11 a.m. Friday with a ceremony and a ribbon cutting, followed by a community meal, activities and entertainment at the roughly 3,000-seat Stargazer Pavilion from noon until 5 p.m.
"We're excited to have the hotel open," said Perry. "Cutting the ribbon, getting the hotel open" will make the day a success.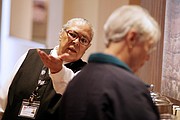 The casino's Dragonfly Night Club will host the Lady Crow Road Show from 9 p.m. until 1 a.m.
In a press release, Yavapai-Apache Nation's Tribal Council Chairwoman Jane Russell-Winiecki stated that the Nation is "very proud of this development and welcome the community to join us in celebrating this accomplishment."
From A to B
More than two years after breaking ground, the casino's new hotel includes 14 suites, a conference and entertainment facility, indoor swimming pool, new retail outlet, a coffee shop, a 300-space parking garage – and 5,000 square feet of meeting space.
Also living in the Montezuma Heights Air Park, Connie Guinn said Tuesday that "everything" impressed her about the new hotel, which will make rooms available as of March 1.
"I am glad they built this here," said Guinn, touring the new hotel with her husband Ray Harris. "It's as beautiful as any hotel I've ever seen. The indoor pool, it's like a dream."
The couple regularly travels to Laughlin, Harris said, "but this beats everything we've seen there."
Guinn said she was excited to see the hotel finished and ready for business.
"It's nice to see them prosper with this," she said. "I'm really happy to be here."
Hotel amenities
Each of the hotel's rooms, a mix of suites, king bed rooms and double-queen bed rooms, includes DreamCatcher signature mattresses with Tencel+Plus bedding, spa-like raindance shower with 120 jets of water, Keurig coffee maker, media hub with the latest technology and a 43-inch high-definition television.
Besides a plethora of gaming options, the adjoining Cliff Castle Casino also features a 20-lane bowling center, Kids Quest supervised child care and an arcade, as well as four dining options including Storytellers Steakhouse, Mountain Springs buffet, Johnny Rockets, and the always-open Three Sisters Market.
Cliff Castle Casino's original hotel, just off the street at Montezuma Castle Highway and a stone's throw from the casino, is now an 80-room lodge experience.
For more information about Cliff Castle Casino Hotel, visit www.cliffcastlecasinohotel.com.

-- Follow Bill Helm on Twitter @BillHelm42
More like this story
SUBMIT FEEDBACK
Click Below to: