Camp Verde softball aims to improve on final four finish
Cowboys return three All-Central players, including All-State pitcher Jacy Finley
Originally Published: February 22, 2018 1:56 p.m.
With some fresh faces and returning stars, Camp Verde High softball is ready for another deep playoff run.
After the Cowboys made it to the state semifinals last year and the state championship game in 2016, they start this season confident.
"We're looking pretty sharp," said head coach Henry Smith. "We have tons of room to grow, a lot of young talent, we have a few freshmen starting, infield and outfield, very positive attitudes, all of them are motivated, they're all willing to buy into our coaching style, so it's pretty exciting to get the season started."
Although the Cowboys lost first team All-Central performers Kayla Hackett, Amber Dodge and Madison Johnson, they return first teamers Jacy Finley and Jade Oium. Plus second team All-Central Tyra Smith is back.
"We're a lot more dedicated and I think we're ready to work as a team," Tyra Smith said.
Henry Smith was section or coach of the year three of the last four seasons, including last year.
The Cowboys opened the season with a 14-2 win at Mayer on Wednesday.
"We're looking really good, we just had our starting line up do hitting and field and I think we looked really good, we looked really solid," Oium said. "I think this team this year is really dedicated to what we're doing, we all really want to go to State and we're all in, like everybody's all in to win it."
Henry Smith said the young Cowboys should hit well.
"The biggest thing we're focused on now is staying disciplined and understanding the situations and I think that for the most part, although they're very young, they have a good understanding of kind of more or less a baseline of where we need to be and will just continue to grow from there," Henry Smith.
Leading the way for Cowboys is Finley, a sophomore pitcher. Last year she a 2.43 ERA and struck out 165 in 118 innings.
Henry Smith said that although she worked hard in the offseason, they don't want to over work her.
"She worked all offseason, she worked with us and on our club team, our offseason team and she did well, no problems what so ever," Henry Smith said. "We intentionally kept her from over working herself, as long as she is playing us we're always going to make sure that her arm stays healthy. She's coming into the season 100 percent. My goal is to always make sure that we take care of her arm I think she has a bright future, a long future with college and onto whatever level she wants to take it too. We're always conscious of her arm and making sure that she stays healthy."
Henry Smith said they're pretty solid on defense despite the youth movement.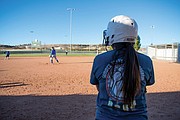 "Right now we have three freshmen starting on the infield," Henry Smith said. "The good thing about that is that we have a lot of years to get them where we want them to be and also they spent all two years playing for us, in our offseason program so now that the time is here, they spent two years waiting for this moment and they worked hard for it, so they've earned those infield positions and I'm excited to see them we should see a few more double plays than last year, we should see a few more extra effort plays than we have in the past, so that's the group that we have now, is extra effort, they're willing to do that to be successful."
Last year the Cowboys led No. 1 seed Bourgade Catholic in the state semifinals before losing.
Tyra Smith said they've talked a lot about the ending to last year and that they will fix it.
"We've talked about that a lot, like in the beginning of the season we all made the statement like 'we all want to go to the state championship this year and we want to take it all' we don't want to be like semifinalist, we want to be that championship team," Oium said. "We want to work as hard as we can to get there."
The Cowboys won the state championship in 2009 and 1981.
"This year I think we're a lot more committed and dedicated and we're ready to make it to State and do our best," Tyra Smith said.
SUBMIT FEEDBACK
Click Below to:
More like this story