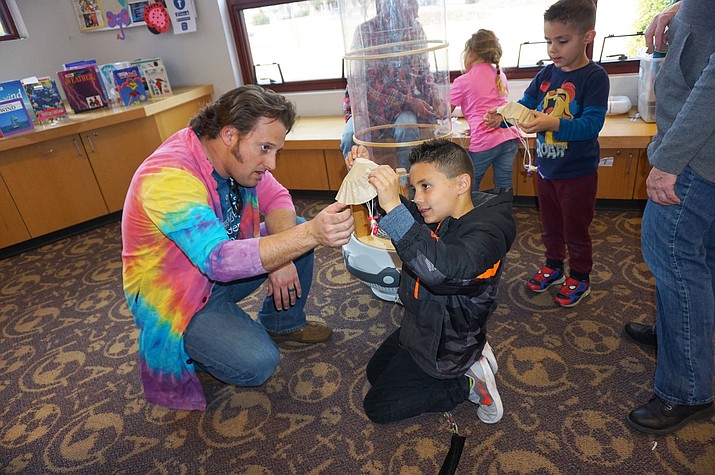 Originally Published: February 22, 2018 1:32 p.m.
STEAMology was the word of the day at the Cottonwood Public Library Wednesday. As part of the Verde Valley SciTech Festival's STEAM Across the Valley 2018 festival, kids participated in a number of activities featuring science, technology, engineering, art and math learning. Verde Valley SciTech recognizes the importance of STEAM education and how professions in these fields impact growth in the economy and in a knowledge-based society.
Local children enjoyed the library's STEAMology program. It included a project that helped kids learn to drill and design. Families were invited to the LEGO table to build projects. Airplanes and boats were the most popular creations of the day. A maze game challenged young minds, promoting planning, problem solving, engineering, building and creativity.
Jackee and Steve Alston from Flagstaff brought their Wonder Factory wind tunnel. It was a big hit with the kids. The Alstons help children transport themselves into the roles of scientist, physician, engineer, artist and biologist with their various projects. The children made paper helicopters and parachutes that they placed into the wind tunnel. They expressed amazement and excitement as their projects shot through the wind tunnel.
Developing STEAM skills fosters development of career and life opportunities. STEAM aims to create a positive local economy through creative problem solving, inquiry, innovation and collaboration.
Library youth services staff members Joyce Read, Shirley Scott and Paula Valenzuela helped the children with STEAM projects. Prescott National Forest educators Anthony Montiel and John Hartley interacted with the children with a game called Junior Ranger Jeopardy.
The Verde Valley SciTech Festival 2018 collaborates with the Arizona SciTech Festival to provide impactful strategies that engage community. Verde Valley SciTech also collaborates with the Rural Activation and Innovation Network (RAIN) to build community awareness and pride in STEM-related industry, resources and skilled workforce in rural regions. RAIN promotes informal science education.
To find out more, contact cochairs Kathy Hellmann or Diane Joens at vvscitech@gmail.com. Verde Valley SciTech educates, inspires and engages community members of all ages to become lifelong enthusiasts of STEAM. To see a list of all the free activities, go to www.vvscitech.org or check the Facebook page for Verde Valley SciTech.
More like this story