Deep Mingus baseball eyes long state tournament run
Originally Published: February 22, 2018 2 p.m.
Mingus Union baseball has a new head coach but they're looking to build on their success.
The defending Grand Canyon champions return almost everyone from last year's team.
"That's pretty awesome, to only lose two seniors is incredible when all the juniors are starting last year," said head coach Tim McKeever Jr. "I mean it's a great feeling but we have to execute, that's what it comes down to. They're very talented, they all have a ton of experience, now it's just done to execution and playing baseball."
The pitching staff is particularly deep.
McKeever said Andrew Kulis, Jordan Huey and Jose Pacheco are the bid senior starters and along with junior Justin Tanner. Senior Tyler Kelly will close for the Marauders.
"We have most of our starters back, we really didn't lose anyone in the rotation," Pacheco said.
On Wednesday Kulis was scheduled to start the season opener.
"He looked really good in our scrimmage, his velocity's up, he has good movement on all of his pitches too," Kelly said.
The Marauders did lose pitcher Mitchell Lindsay and catcher Gus Henley from last year's team. Henley batted .405 as a senior and Lindsay had a 2.56 ERA.
"We have guys waiting in the wings and they're all fighting hard right now for those spots," McKeever said about replacing those two. "The one thing we do have this year is a lot of depth. The guys who were backing those guys up or playing in different positions, we're just going to have to move them around a little bit. It hurts to lose those two guys because they were great players but we'll just have to play the chess game and move 'em around til we find out exactly what fits."
Kulis was second team All-Region, along with current senior infielder/pitcher Skylar Waynick. Tanner and current senior Tyree Kim were honorable mention.
In addition to pitching, McKeever said the Marauders also have power and speed.
"We pitched really well in the scrimmage," McKeever said. "We had a couple little hiccups but got it worked through. Pitching's super solid. Hitting as long as we swing at good pitches, we'll be fine. When we swing at bad pitches it doesn't work out so well."
McKeever took over for Bob Young, who stepped down from the head baseball coach position. Young won seven region coach of the year awards, including last year.
This year he is helping out with the softball team.
"It's hard, it's hard," McKeever said about being head coach. "It's a totally different thing. I've been here for a long time coaching with coach Young and he's taught me so much, I mean he's a mentor and a friend and replacing a legend is impossible, so we're just going to try and do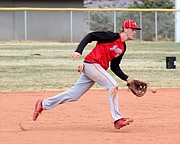 the best that we can. We wish he was still here, I mean I do (laughs) but it's an honor to be the head coach and we're excited for the season and we hope to do some really great things with the talent that he trained and got ready for this run. So we'll see what happens."
The Marauders' home opener is Friday at 3:45 p.m. against Greenway. They begin their region title defense on Mar. 13 when Mohave comes to town.
"Our schedule is pretty tough," McKeever said. "We've got Greenway on Friday and Greenway is good. Our region is always tough Flagstaff's gotten a ton better, Coconino's always tough, Prescott's tough. Our whole region is tough, so those games are going to be super important and we just got to stay healthy, stay eligible work our fundamentals and not make stupid mistakes. If somebody out plays then they out play us but if we mess up by mental errors, then that's a tough way to lose a baseball game."
More like this story
SUBMIT FEEDBACK
Click Below to: