Four Mingus boys soccer players earn All-Region nod
Originally Published: February 22, 2018 1:45 p.m.
Five Mingus Union boys soccer players received All-Grand Canyon recognition after the season.
Senior defender Cayden Ontiveros and senior midfielder Eric Samano are first team All-Grand Canyon Region. Senior forward Kevin Ornelas and junior midfielder Jovany Garcia-Hernandez made the second team.
Sophomore forward Eduardo Lazaro is honorable mention.
"I think they did them very diplomatically and not necessarily to the true nature of the players," said Mingus head coach Calvin Behlow. "I think I had the defensive player of the year bar none and he didn't win it because he was injured during the Bradshaw game and didn't play against Coconino, so because of that he missed out on two votes but Cayden Ontiveros was the best defensive player I saw all year at any game and because of that he kinda got gypped."
Four Mohave players made the first team and three the second. Two Flagstaff players were first team and three were second team.
"They went down and they said that 'we'll give this many to Mohave and this many to Flagstaff' because they were the first and second team and we were able to get two, two and one," Calvin Behlow said. "I think it was diplomatic, which is good but I think some players didn't get recognition that they could have."
Mohave's Matt Camacho won coach of the year, Marco Avitia of Flagstaff was defensive player of the year, Bradshaw Mountain's Brandon Fischer was offensive player of the year and overall player of the year was Mohave's Sebastian Leyva.
Behlow thought senior midfielder Cristian Sandoval, sophomore midfielder/forward Angel De La Cruz, junior midfielder and Jordan Finger and junior forward Bradley Howard could have at least been honorable mention.
"We took third in the conference and shouldn't have," Calvin Behlow said. "We battled to get there. When we hit the field, we were never the better team but we had the hardest working team out there and I think that goes a long way."
Behlow steps down
As expected, Calvin Behlow resigned after the season.
After last season ended Calvin Behlow stepped down so he could watch his son, Ezekiel Behlow, play for the boys and his daughter, Jaiden Behlow, play for the girls team. However, Ezekiel Behlow and his nephew, Ontiveros, convinced him to return to coach their senior years.
Jaiden Behlow was honorable mention All-Region this season.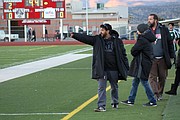 Calvin Behlow said he doesn't know what he is going to do next season but that he would like to help out both the boys and girls as a skills coach.
"I will be at every girls game watching, because my daughter is playing," Calvin Behlow said. "I'll be watching a lot of her games and if I can help out great, and if not then I get to be a dad."
More like this story
SUBMIT FEEDBACK
Click Below to: